A Messsage from Merril Lieb Q3 2017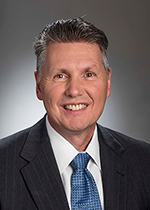 Welcome to the third quarter edition of our Shortline Connection. In July, BNSF announced some organizational changes to our Marketing and Operations teams. Katie Farmer has replaced Matt Igoe as vice president, Service Design Performance & Operations Support. Katie recently served as group vice president, Consumer Products, with responsibility for the commercial activities of BNSF's intermodal and automotive business. Katie will help the Shortline Development team work with our shortlines to continue providing value and a high level of service to our mutual customers. Katie plans to attend our upcoming annual conference and looks forward to meeting all of you.
Overall U.S. rail carloads, including intermodal, are up 4% over last year, which is consistent with the growth in shortline industry volumes. Much of the growth in carloads is coming from coal, steel, non-metallic minerals (frac sand) and intermodal. BNSF shortlines have fared better than the shortline industry volumes, with BNSF shortline volumes up 7%. Our shortline business mix looks different than the overall rail industry, with Industrial Products and Agriculture units making up almost 90% of shortline units. BNSF handles some Coal and Automotive with shortlines, but no Intermodal.
The growth drivers for BNSF shortlines in 2017 have been Construction Products (frac sand) and Whole Grains. While BNSF's Agricultural Products unit had a strong first half of the year, our Ag business faces challenging year-over-year comps during this second half of 2017, and U.S. farmers are facing tough global competition. Shortlines play an important role in our Ag business, with more than 35 origin shuttle locations on BNSF shortlines generating inquiries for potential new locations. Please reach out to us to assist in those conversations with potential customers.
The other main driver of the increase in shortline volumes year-to-date has been frac sand. Our shortlines serve sand producing areas in Illinois, along with consumption areas in the shale basins in Texas, Oklahoma and Colorado. Oil producers are looking for sand facilities located close to their drilling activities. If you have sites on your shortline located near new drilling activity, please reach out to us to discuss potential sand unloading locations.
The number of opportunities with shortlines remains strong in 2017. BNSF has opened 490 opportunities on shortlines, and closed/won 214 of those opportunities. While all of these opportunities are not new opportunities, they do represent current, positive activity. We have identified at least one opportunity with over 100 shortlines, which is more than half of all our active shortlines, so it is great to see this business activity.
Our annual conference is just one month away. Our theme this year is "Making the Right Connections," and we look forward to seeing everyone in downtown Fort Worth on October 18-19.

BNSF Railway
Assistant Vice President, Shortline Development