A Message from Merril Lieb Q4 2016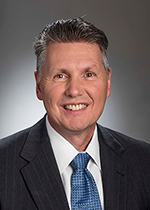 Welcome to the fourth quarter edition of our Shortline Connection. I want to thank everyone who attended our annual Shortline Conference which took place in Ft Worth, TX in late October. Over 170 shortline individuals attended this year's conference, along with some 70 BNSF attendees from key departments that deal with shortlines, including Marketing and Operations. One of the primary benefits of the meeting is to network with others from the shortline industry and the BNSF teams. Attendees gave the conference high marks with 80% of shortline survey participants rating the conference as "Excellent" or "Very Good". We review and share all comments from attendees with the BNSF team, as we strive to improve the overall value of the meeting for shortline attendees each year. To see more ratings and comments regarding this year's conference, please review the BNSF Shortline Conference page. At the request of the shortline attendees, we have also provided a link to the presenters' slides.
A recurring theme at this year's conference and throughout this year has been the impact of lower volumes in the railroad industry. Volume gains in Autos and Grain are not nearly enough to offset the large losses in Coal and other Energy related commodities. The impact of lower natural gas prices and regulations have significantly impacted coal volumes. BNSF shortlines do not handle much coal; representing only 2% of BNSF shortline volumes. Overall, BNSF shortline volumes through October are up 1%. Shortlines who haul Grain and Construction Products have shown YOY volume growth. We continue to highlight opportunities identified and won with shortlines as a positive sign moving forward.
BNSF is currently working with shortline customers on new and expanded facilities in these markets and other markets. Many of the shortlines we work with are focused on local industrial development, which not only benefits them with increased carloads, but also helps with job creation in their local communities. BNSF's Economic Development group, with economic development managers across our system, is available to help shortlines locate new customers and expand existing customers along their lines. Over the past five years, BNSF customers and local economic development organizations have invested more than $1 billion per year on new or expanded facilities across the BNSF system. We currently have 24 new or expanded customer projects on shortlines and completed approximately 20 new or expanded customer projects on shortlines in 2016.
As we look forward into 2017, much uncertainty still exists with the economy. Will the new administration's policies help stimulate the economy or slow down the fall in energy related commodities? What impacts will those policies and other structural changes taking place in the economy have on rail? From a shortline perspective, we will continue to focus on our 5 mutual expectations with shortlines: Safety, Service, Growth, Efficiency and Investment. To help further those discussions, we are developing metrics and scorecards to measure our progress in these key areas. We are open to all ideas which help provide a higher level of service and additional value to our mutual customers.
we would also like to announce that dean wise, bnsf vice president, network strategy, has announced his plans to retire in early 2017. wise has served in his current role since he joined bnsf in february 2010. in this role, he has helped lead bnsf's strategy process, network franchise development, shortline business development, public-private partnerships, interline and haulage management, line dispositions, and non-rail uses of the bnsf right-of-way. he also served as a member of bnsf's executive team.
We look forward to working with you in 2017 and wish you and your family a Happy Holiday Season!

BNSF Railway
Assistant Vice President, Shortline Development