A Message from Merril Lieb Q4 2017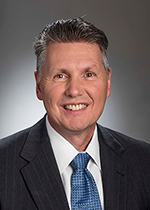 Welcome to the fourth quarter edition of BNSF's Shortline Connection. I want to begin by thanking the 135 attendees of this year's shortline conference, which was held on October 19-20 in Fort Worth, Texas. At our conference, we strive to provide meaningful content and opportunities for dialogue between the Shortlines and BNSF. The event enables us to find additional opportunities to work together and to improve the service we provide for the customers we share. The feedback that you provide as a part of the post-event survey also helps us to inform our discussion and identify key areas of focus for the upcoming year.
Every year I especially enjoy reading the conference comments and changes that attendees suggest for future conferences. Conference attendees commented that they would like more networking opportunities with BNSF personnel and the return of an economic update. Both are great suggestions and ones that we will consider when we begin planning the 2018 conference.
I would like to congratulate Farmrail System and Minnesota Northern for receiving this year's Shortline of the Year award and Special Recognition award, respectively. Both companies exemplified our five mutual expectations of Safety, Service, Growth, Efficiency and Investment. I would also like to recognize the 128 BNSF shortlines who operated in 2016 with zero reportable injuries.
As discussed at the conference, Shortlines are on the front lines of many community and industry issues and are uniquely positioned to assist BNSF with collectively addressing these concerns, including modal equity when developing public policy for transportation and infrastructure investments. We believe that closer cooperation between ASLRRA and AAR will also help strengthen rail's voice in Washington DC. Along with closer cooperation between the associations, BNSF's Government and Community Affairs teams may also assist with many of these issues at the national and local levels. BNSF has representatives in our Washington DC office, state representatives, as well as employees in field locations across our network, who are dedicated to addressing these issues. If you see opportunities to work together or have any concerns that you would like to discuss with BNSF, please reach out to your shortline director so that we may engage other BNSF stakeholders and work with you on an appropriate response.
I was encouraged by the participation and dialogue at this year's conference. While challenges lie ahead and market conditions are dynamic, our focus remains on providing a high level of service to our mutual customers.
I would like to wish all of you a Happy Holiday Season!

BNSF Railway
Assistant Vice President, Shortline Development