World Class Sugar Facility Opens on BNSF network
American Crystal Sugar recently opened a new $40 million bulk sugar storage facility on the BNSF rail network in Montgomery, Ill. The project is the culmination of years of combined planning across several BNSF departments, along with shortline Burlington Junction Railway (BJRY) and other external partners.
The new bulk sugar storage facility will allow American Crystal Sugar to more efficiently store its product closer to its large customer base in the Midwest.
The complex is one of the largest freestanding sugar storage facilities in the U.S. It includes a 26,000 square-foot bulk storage dome, a 17,000 square-foot transfer facility and 5,500 feet of track space. The dome stands 134 feet high and 183 feet wide. It has the capacity to store 60,000 metric tons of sugar and will transfer nearly twice that much to customers annually.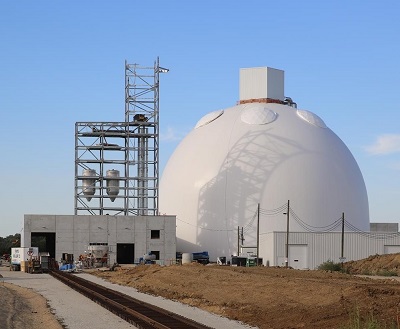 "This sugar facility is a significant win for BNSF. It not only adds incremental business for us, but will also give us a better return on the use of our assets due to improved velocity and cycle times," said John Miller, group vice president, Agricultural Products. "As we know, our company has made a significant investment to this part of our network. That investment, along with a lot of hard work, is paying off for both BNSF and this valued customer."
BNSF manifest trains began to deliver product to the Montgomery sugar storage facility in November. BNSF trains and crews will operate the long-haul leg of the route, and the storage facility will be directly serviced by BJRY.
American Crystal Sugar markets its products through United Sugars Corporation. At the recent ribbon cutting ceremony, Robert Green, Chairman of United Sugars Corporation, thanked all parties involved for their commitment to help meet customer demand.
"I want to thank our highly valued service providers, BNSF Railway, Burlington Junction Railway and A&R Logistics," Green said. "You are a direct extension of United Sugars, and we rely on you to provide exceptional service to meet our customers' demands."