Shortline of the Year 2015
Austin Western Railroad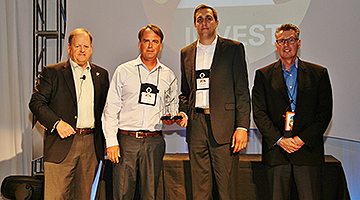 BNSF selected AWRR as its 2015 Shortline Railroad of the Year because it delivered significant growth in traffic interchanged with BNSF since the two railroads began their business relationship in 2007.
BNSF gained the opportunity to interchange traffic with AWRR as a result of the settlement agreement of the Union Pacific and Southern Pacific railroad merger in 1997.
AWRR operates on 111 miles of track from Marble Falls to Elgin, Texas. AWRR interchanges freight with BNSF at McNeil, Texas. AWRR moves approximately 49,000 carloads annually, shipping commodities such as aggregates, crushed limestone, calcium bicarbonate, lumber, beer, chemicals, plastics and paper.
For the first seven months of 2015, the freight interchanged between AWRR and BNSF increased by 28% compared to the same period in 2014. AWRR's annual compound growth rate since 2007 through the end of 2014 for freight interchanged between the two railroads was 35%.
"In recent years, we've seen a significant increase in aggregate unit trains due to increased highway construction in Texas, and the Austin Western Railroad moved almost all of the aggregate needed to build the Formula One race track in Austin," said Ryan Williams, vice president marketing and sales, Watco Companies.
The additional business is proof that good things come when shortlines team with BNSF to grow, serve and invest in opportunities. "The award is a great testament to the strong relationship we have built with BNSF. Our team has a mindset to put customers first and practice safety always and this provides acknowledgement to the team that their work is recognized and appreciated," said Williams.
Special Recognition 2015 - Plainsman Switching Company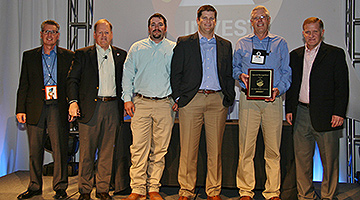 BNSF selected Plainsman Switching for a special recognition for their continued excellence in marketing and operations
PSC operates 18 miles of track in Lubbock, Texas and is owned by PYCO Industries, which is the largest cottonseed cooperative in the Southern United States.
PSC handles a variety of commodities including grain, chemicals, sand, food products, lumber, and oil field supplies. PSC also serves two large cottonseed oil mills. Regardless of the opportunity or the commodity, PSC has maintained a strong focus on growth and providing outstanding service to BNSF and our customers.