Agricultural Products Network Update for Friday, April 30, 2021
Operational Performance
BNSF operating teams continue to focus on driving greater efficiencies while also responding to some challenges this week that negatively impacted service performance. We experienced a derailment last Friday evening in western Arizona on our busy Southern Transcon route between Southern California and the Midwest. With both main lines out of service for several hours, a significant number of trains were delayed until traffic flows were fully normalized by Monday morning. An outbreak of severe storms Wednesday night into Thursday in the Southern Plains also caused some delays.
While down slightly from the prior week, overall car velocity remains higher than the average level for March. Average terminal dwell was reduced versus both the prior week and month. Our local service compliance measure, which reflects our efficiency in the handling of carload freight, improved by nearly two percent and is currently averaging near 92 percent. With strong demand in some business segments, total volume on the network was the highest since early December and our seventh week this year exceeding 200,000 units.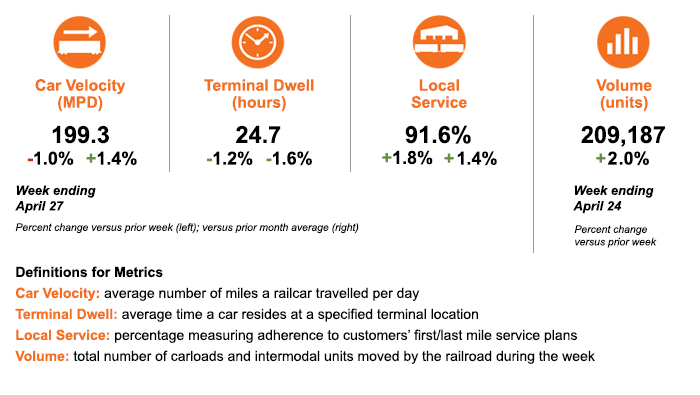 As we align resources with these elevated freight volumes, we remain confident in the actions being taken to drive performance improvement. The re-deployment of crews and equipment to various locations has been part of our response to the current environment. As we move into May, ongoing collaboration with customers is critical to our efforts in providing service that consistently meets your expectations.
Track Inspection Technologies
As we reported, our peak season for track maintenance activity across the network is underway. The BNSF engineering team relies on a variety of technologies to ensure the safety and reliability of our physical infrastructure. In our latest "Rail Talk" post, we highlight BNSF's "geo car" fleet, which is used to detect and report rail joint defects. The fleet annually covers up to 400,000 track miles on average and includes unmanned cars that can operate 24/7 on the network. Learn more about how optical track inspection technology developed by BNSF, and recently implemented on our manned geometry cars, has become part of this industry-leading track inspection program.
Service Expectations for the Week Ahead
Heavy rain is expected this weekend across parts of the Texas Gulf Coast, with flash flood watches currently in effect through Sunday. BNSF teams are monitoring conditions for any potential service impacts. We are also monitoring another outbreak of severe storms Monday night into Tuesday across the Plains. Across much of the BNSF network, favorable operating conditions are expected throughout the upcoming week.
As always, we thank you for your business and appreciate the opportunity to serve as your transportation service provider. We welcome your feedback and questions.