Agricultural Products Network Update for Friday, February 16, 2018
Operational Performance
The operation remains challenged in northern Montana and North Dakota as extreme winter weather continues to negatively impact velocity and fluidity on portions of our primary route between the Pacific Northwest and Midwest. As we reported, heavy snow and below zero temperatures throughout the past two weeks have impacted the ability to maintain normal traffic flows.

The frigid conditions in the region have placed considerable demands on locomotive availability as additional power is necessary to generate proper air flow for braking systems. BNSF has deployed additional resources, including 200 locomotives from our surge fleet, to reduce the number of trains being held. Our crews, including those in our mechanical shops, are working aggressively to clear blocked main lines, keep terminals open and position locomotives to move as many trains as possible along this busy section of the network.

In our South Region, some trains in central California experienced delays earlier this week due to a derailment that occurred early Sunday morning on our Stockton Subdivision near East Modesto, California. As we reported to impacted customers, the main line through the incident location was out of service for approximately 36 hours while crews worked to clear the scene and complete track repairs. Traffic flows through this location have since normalized.

We have also focused on congestion in Houston this week involving rail lines with BNSF trackage rights within the terminal complex. We continue to monitor this situation and work with the other rail carriers to improve fluidity in the area.

2018 Capital Expansion: Amarillo Fourth Main Track Project
With our focus on enhancing capacity in key locations, work is set to begin on one of the largest capital expansion projects planned this year along BNSF's Southern Transcon route connecting Southern California and Chicago. On Tuesday, February 27, crews will start construction on a nearly five-mile stretch of fourth main track on our Hereford Subdivision through Amarillo, TX.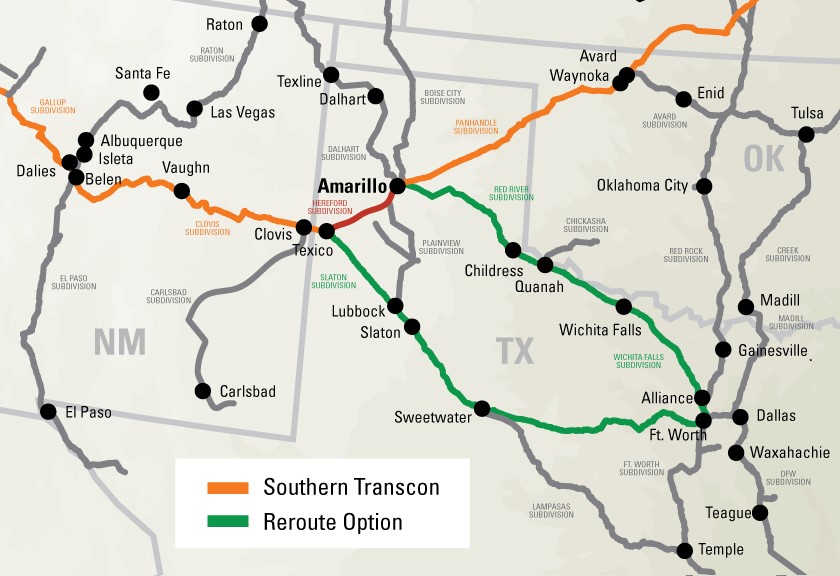 The project will be completed in several phases over the next few months with work anticipated to finish by Labor Day. The heaviest construction is scheduled to take place on Tuesdays, which is a day that should be the least disruptive to traffic flows, particularly with the fewest intermodal trains moving through Amarillo on the Transcon.

Some trains may experience delays and extended transit times depending on the route, with the most significant impact to transit times occurring on those Tuesdays with heavy construction activity. As highlighted on the above map, BNSF will utilize an alternate route to alleviate congestion during the peak construction windows.

With additional main track in this location, BNSF will be able to offer a pass-through route for trains traveling at higher rates of speed, akin to an HOV express lane on the highway, that will facilitate throughput and help keep this crucial section of our Southern Transcon route fluid.

Get the Latest Agricultural News in Sam Sexhus' Podcast
In this week's audio podcast, BNSF Group Vice President of Agricultural Products, Sam Sexhus, gives an update on the network and covers one of BNSF's largest 2018 capital expansion projects - the addition of a fourth main track on our Hereford Subdivision through Amarillo, TX.

Service Expectations for the Week Ahead
An active weather pattern will remain in place for much of the BNSF network, with frigid temperatures and snow expected at various times during the next several days across the Northern Corridor. In the Pacific Northwest, heavy snow is also expected in the higher elevations this weekend along with the coldest temperatures of the season.

While maintenance activity is ongoing in several areas of the network, two significant multi-week projects are nearing completion: on our Slaton Subdivision, running between the Texas/New Mexico state line through Lubbock and into Sweetwater, Texas, as well as on the Birmingham Subdivision, between Memphis and Birmingham. Customers should expect improved transit times for shipments designated to move through these areas.

Below is a look at the key operational performance categories for the week ending February 15:

Total trains held for the week was essentially unchanged with an average of 130.7 trains held versus 130.6 trains held during the prior week.
Versus the February 2017 average: up by 0.7%

Total trains on the system was up by more than three percent versus the prior week with an average of 1,518 trains on the system.
Versus the February 2017 average: up by 4.0%

Car velocity was down by more than one percent at 209.3 MPD versus 212.2 MPD recorded the prior week.
Versus the February 2017 average: up by 2.3%

Train velocity, measured in miles per hour (MPH), was down by nearly one percent versus the prior week at 17.8 MPH.
Versus the February 2017 average: up by 1.9%

Total volume was down by nearly eight percent from the prior week with 196,603 units moved in Week 6 (ending February 10) versus 212,942 units in Week 5 (ending February 3).

Terminal dwell increased by nearly one percent versus the prior week at 26.4 hours.
Versus the February 2017 average: down by 6.5%

As always, we thank you for your business and appreciate the opportunity to serve as your transportation service provider. We welcome your feedback and questions.