Agricultural Products Network Update for Friday, February 5, 2021
Operational Performance
Our operations team remains focused on maintaining network fluidity while effectively aligning resources with freight volumes. We experienced a derailment yesterday morning on our Southern Transcon in New Mexico, approximately 95 miles west of Belen. Some trains experienced delays while crews were working at the scene. Train flows through the area are normalizing with both main tracks back in service.
At the eastern end of the Transcon, performance has improved in Chicago this week following two significant winter storms, however, operating conditions in the area remain challenging with high winds and very cold temperatures across the region.
Car velocity for all trains was higher versus the previous week but slightly below the average level for January. Average terminal dwell increased from the previous week, as well as versus the previous month, resulting from congestion at some facilities. Local service compliance improved and currently exceeds 91 percent.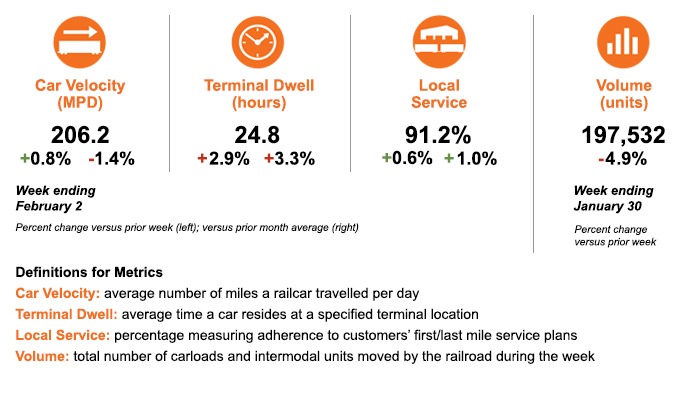 Service Expectations for the Week Ahead
During the upcoming week, a prolonged period of harsh winter weather is expected across much of our North Region, including Chicago. Many locations across the Northern Plains and Upper Midwest will experience air temperatures well below zero. Train length restrictions will be in effect in some areas due to these extreme cold temperatures.
Winter action plans have been implemented, and we have activated a 24-hour command center in Chicago to coordinate our response to the challenging operating conditions. As always, BNSF teams are prepared to address any service disruptions as quickly as possible.