Agricultural Products Network Update for Friday, October 23, 2020
Operational Performance
Operating teams across the network continue to focus on aligning resources as effectively as possible to support strong traffic flows, particularly on our Northern and Southern Transcon routes. While we confronted some early season winter weather in the North earlier this week, overall service performance remained relatively steady and consistent with the levels reported during the past several weeks.
Average terminal dwell and our local service compliance measure both improved by about one percent versus the prior week, while car velocity was essentially unchanged. Total volume was down slightly but remains close to the 200,000-unit weekly level.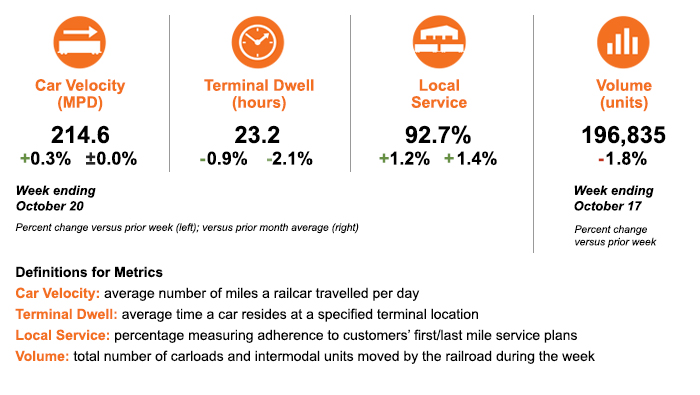 We experienced a derailment early this morning on our primary Northern Transcon route in Montana, approximately 77 miles east of Havre. The single main track in the affected location is currently out of service while crews are at the scene. Some trains designated to move through the area may experience delays until service is restored.
Extreme Winter Weather Operations
Winter storm warnings are in effect today across the interior Pacific Northwest as a strong system is expected to bring heavy snow and record cold temperatures to many locations going into the weekend. While the winter weather season started earlier than normal this year, each BNSF operating division already completed an annual reevaluation of their Winter Action Plan, which includes details on response procedures as well as on the resources needed to keep personnel safe and trains moving during extreme conditions.
Nearly 5,000 switch heaters are in place on the network to help keep rail switches from freezing and prevent snow/ice buildup. We have also installed new switches at key locations, such as Galesburg, Illinois, which are expected to perform better in harsh conditions. In our BNSF mobile application that handles arrangements for crew transportation and outlines some train handling procedures, we have added new functionality that provides greater transparency and visibility into a storm's location and timing.
For more information on how we ensure continuity of operations during extreme winter weather, please visit BNSF.com/winter. We will post additional multimedia content to this webpage throughout the winter season.
Service Expectations for the Week Ahead
The strong storm that is currently over the Northern Rockies will move southward into the southern Plains and bring freezing temperatures, and possibly some wintry precipitation, as far south as Oklahoma during the first few days of next week. High winds are also likely in many locations as this system moves through the region.
BNSF teams are monitoring these conditions closely and will adjust operations accordingly. More favorable operating weather is expected to return to these areas of the network during the remainder of the upcoming week.