Agricultural Products Network Update for June 28, 2019
Note: With the upcoming Independence Day holiday, we are distributing this Network Update one week earlier than scheduled. Our regular biweekly schedule will resume on Friday, July 12.

Operational Performance
BNSF continues to make progress in restoring service through flood-affected locations in the Midwest while also addressing other weather-related outages that occurred earlier this week. Following heavy rainfall, multiple washouts were reported early Wednesday on the Wymore Subdivision in southern Nebraska. Significant track restoration was required, and crews worked aggressively to restore service by yesterday evening. Operating teams re-routed affected traffic as much as possible to minimize delays. Heavy rain from storms Sunday night also caused a brief outage on our Cherokee Subdivision in southwestern Missouri.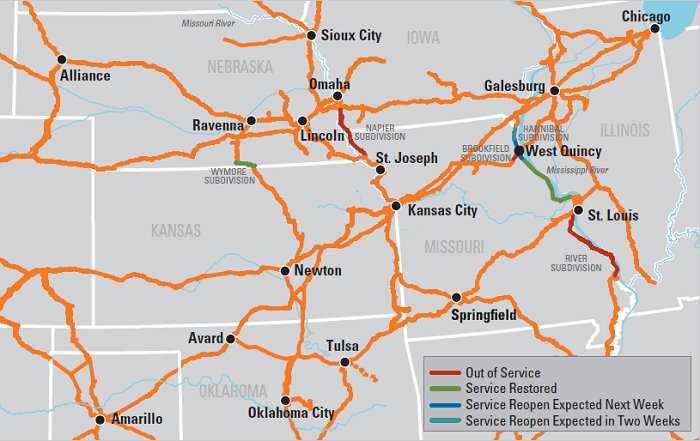 Water levels of the major rivers in Iowa and Missouri are still slightly above flood stage but forecasted to continue slowly receding during the next several days. Nearly 20 more miles of the Hannibal Subdivision are expected to reopen early next week, with the remaining nearly 30 miles between Keokuk, Iowa and LaGrange, Missouri reopening the following week. While we also had expected to reopen the nearly 5-mile closed segment of the Brookfield Subdivision early next week, water remains more than two feet over the rail in one location. An estimate on when service will be restored on this segment remains pending. The River Subdivision is currently expected to reopen in mid-July and the Napier Subdivision in late July.

Overall service performance on the network held relatively steady with levels reported during the previous week. As maintenance activity on the network remains in full swing, a new bridge was placed into service on Tuesday on our busy Fallbridge Subdivision in North Bonneville, Washington. The new span over Hamilton Creek, which was constructed during the past year, replaces a bridge originally built in 1908. This is the first of two bridges in a combined $30 million bridge replacement project this year on the subdivision. The other new bridge will be installed approximately 10 miles east of this location in early August.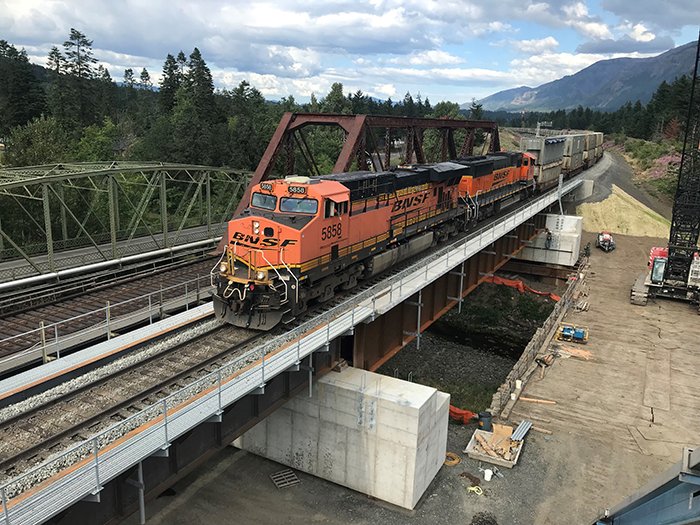 First BNSF train crossing new bridge in North Bonneville, Wash. - June 25, 2019

Independence Day Holiday Operating Plan
Independence Day, July 4, is not a recognized shuttle holiday. BNSF will continue to operate agricultural trains according to normal schedules, however, connecting carriers who have reduced operations for the holiday may cause delays on interline traffic. Customer Support and Grain Operations will provide full coverage over the holiday.

Service Expectations for the Week Ahead
An active weather pattern is expected for the Plains and upper Midwest next week with periodic chances for storms. Favorable operating conditions are expected in other areas of the network.
BNSF operating teams will remain focused on balancing resources with train flows during the upcoming holiday week. Major maintenance work will continue across multiple areas of the BNSF network, particularly along our primary Northern Transcon route through Montana. Some trains may experience delays due to daily work windows in several locations.

Below is a look at the key operational performance categories for the week ending June 27:

Total trains held for the week increased by more than two percent with an average of 136.6 trains held versus 133.3 trains held during the prior week.
Versus the May 2019 average: down by 11.2%
Versus the June 2018 average: up by 6.4%

Total trains on the system increased by nearly one percent versus the prior week with an average of 1,579 trains on the system.
Versus the May 2019 average: up by 1.8%
Versus the June 2018 average: down by 1.0%

Car velocity, measured in miles per day (MPD), was down by more than one percent at 193.6 MPD versus 196.0 MPD recorded the prior week.
Versus the May 2019 average: down by 0.1%
Versus the June 2018 average: down by 6.2%

Train velocity, measured in miles per hour (MPH), was down by nearly two percent versus the prior week at 15.7 MPH.
Versus the May 2019 average: down by 1.0%
Versus the June 2018 average: down by 7.9%

Total volume decreased by more than one percent from the prior week with 199,195 units moved in Week 25 (ending June 22) versus 201,552 units in Week 24 (ending June 15).

Terminal dwell decreased by more than one percent versus the prior week at 26.4 hours.
Versus the May 2019 average: down by 0.2%
Versus the June 2018 average: up by 2.9%

As always, we thank you for your business and appreciate the opportunity to serve as your transportation service provider. We welcome your feedback and questions.