Agricultural Products Network Update for Thursday, April 1, 2021
With observance of the Good Friday holiday, this Network Update is being delivered one day earlier than scheduled.
Operational Performance
BNSF operating teams are focused on maintaining positive performance momentum going into April. Earlier this week, a strong weather system moving through the network created some service challenges, particularly along our Northern Corridor. Some traffic experienced delays due to high winds as gusts of around 70 miles per hour were reported in eastern Montana on Monday. Several trains were also impacted by track repair work taking place Monday night into Tuesday morning on the Fallbridge Subdivision in Washington, our primary east-west route running between Pasco and Portland, Oregon.
Overall, average car velocity was up versus the prior week, with terminal dwell also reduced by a significant margin. Our local service compliance measure, exceeding 91 percent, reflects improved efficiencies in the handling of carload freight. Total volume increased by nearly three percent and was the second highest weekly level moved by the railroad this year. We continue to address congestion at some BNSF terminals through adjusting operating plans as well as aligning resources with freight volumes as effectively as possible.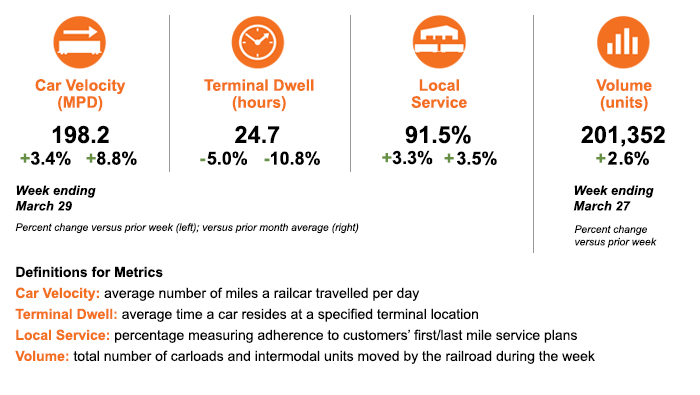 Service Expectations for the Week Ahead
Favorable operating conditions are expected across much of the network going into the upcoming week. With dry weather in the forecast, along with occasionally strong winds, we continue to monitor an elevated to high risk for wildfires in multiple areas across the Northern Plains as well as the Southwest, including the Texas Panhandle. BNSF teams are prepared to respond quickly if any main lines are threatened.
As always, we thank you for your business and appreciate the opportunity to serve as your transportation service provider. We welcome your feedback and questions.