Agricultural Products Network Update for Thursday, April 9, 2020
04/09/2020

Network Update for Thursday, April 9, 2020

Operational Performance
The state of the BNSF network remains solid with operating teams continuing to generate strong service performance. For the first week of April, average car velocity increased as we have recorded some of the highest weekday levels of the year to date. Terminal dwell was reduced versus the prior week and is now nearly six percent below the average level for March. Our local service compliance measure continues to reflect improved efficiencies in the handling of carload freight.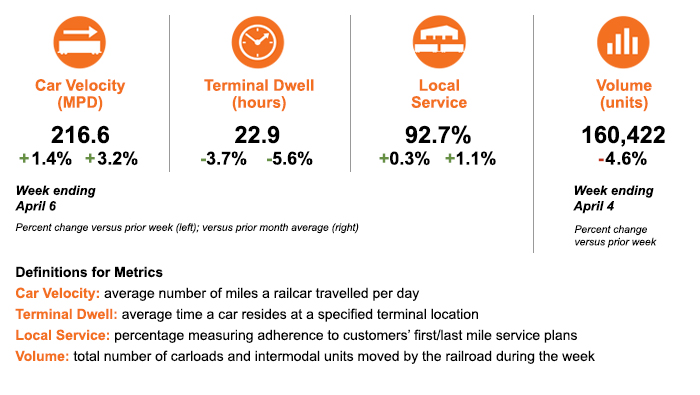 COVID-19 Response
As an essential service provider delivering the supplies America needs during the COVID-19 pandemic, BNSF continues to move critical goods to destination as quickly as possible. Normal operations have been maintained thanks to the commitment and dedication of our BNSF personnel. With their hard work, operating teams have kept trains moving safely and efficiently.

If your facility has suspended operations, either fully or partially, by shelter-in-place or emergency declarations, please notify BNSF so that we can help. You can submit your information through the online form available here. For more information on the actions and additional precautions we have taken in response to this pandemic, please visit our Coronavirus COVID-19 Response webpage.

Capital Expansion Update
BNSF engineering teams are also hard at work on several significant capital expansion projects on the network. In Sandpoint, Idaho, crews are moving forward on the Sandpoint Junction Connector, which includes building a second, three-quarter-mile-long adjacent bridge over Lake Pend Oreille. The first phase of the multi-year project is nearing completion, which includes site preparation leading up to construction of the additional bridge span.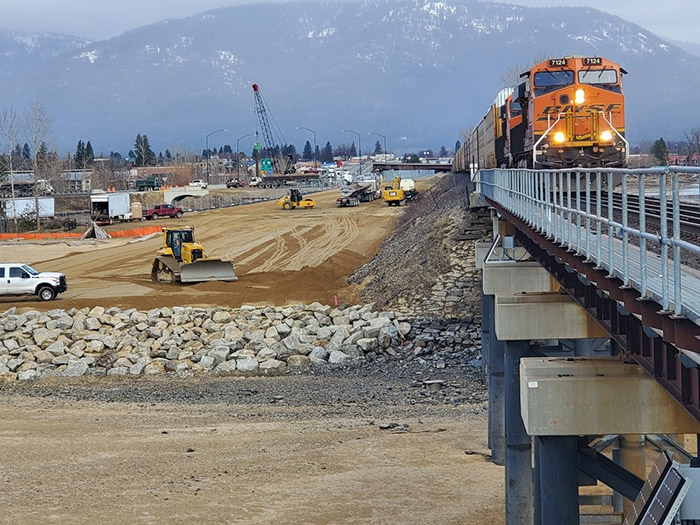 Additional protocols, including adherence to social distancing, are in place to keep work teams safe. Equipment is not shared unless it has been sanitized, and work teams are being kept to fewer than 10 people.

This major project, once completed, will alleviate congestion at this critical junction and greatly improve traffic flows between the Pacific Northwest and points east. We will continue to provide updates as the work progresses.

Service Expectations for the Week Ahead
Favorable operating conditions are expected across most areas of the BNSF network during the upcoming week. No major storms or extreme weather events affecting rail service are anticipated at this time.

Track maintenance work is ongoing across the BNSF network, with several projects running ahead of schedule. Where crews are active, some train delays are possible during scheduled daily work windows.