Automotive Network Update for Friday, February 28, 2020
Operational Performance
BNSF operating teams continue to support strong overall service performance on the network. Average car velocity held steady versus the prior reporting week. Terminal dwell was reduced by more than three percent, and Local Service remains above last month's average level.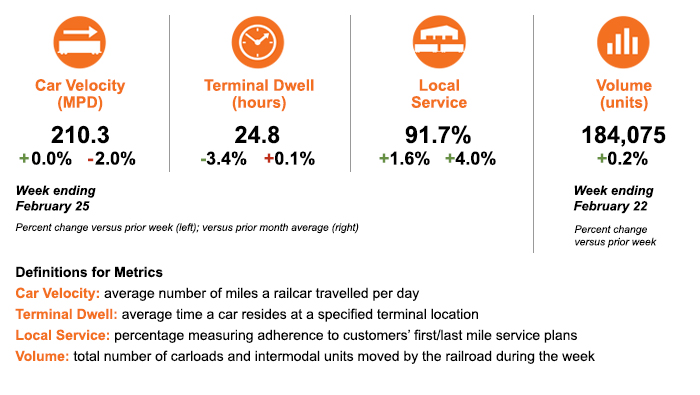 We experienced a derailment yesterday evening on our Canyon Subdivision in Wyoming, approximately 75 miles east of Casper. The single main line track at this location is currently out of service, which is impacting some traffic in the area. Some trains are experiencing delays due to this outage while others have been re-routed to minimize the disruption. BNSF teams and contractors are completing track repairs and service is expected to be restored by late tonight.

Track Maintenance Activity
BNSF capital gangs remain active in several locations in our South Region, particularly along our Southern Transcon between Los Angeles and Chicago. As part of our extensive 2020 track maintenance program, engineering crews installed a new rail switch earlier this week on our Seligman Subdivision just east of Winslow, Arizona. The installation, which was safely and successfully completed on Tuesday, required a nearly 20-hour work window affecting one of the main tracks. BNSF operating teams made adjustments prior to this planned outage to minimize the number of trains holding and maintain normal traffic flows as much as possible through this busy location.

Service Expectations for the Week Ahead
Favorable operating conditions are expected across much of the North Region as temperatures will be relatively mild for the first week of March in many locations. While some severe storms are likely early in the week across east Texas and into Louisiana, no significant service interruptions due to weather are anticipated at this time.

As referenced, track maintenance work continues in several locations on the network, particularly across the Southwest. Some train delays are possible during scheduled daily work windows.

As always, we thank you for your business and appreciate the opportunity to serve as your transportation service provider.

If you have any questions, please send an email to Customer.Notifications@bnsf.com