Automotive Network Update for Friday, March 19, 2021
Operational Performance
BNSF operating teams are focused on generating improved performance after confronting significant service challenges this week due to extreme weather. Traffic flows on the Southern Transcon continue to normalize following a derailment that occurred Tuesday night at Glazier, Texas, approximately 100 miles northeast of Amarillo. As we reported, the derailment was caused by high winds in the area, with both main tracks at this location out of service for nearly 24 hours.
We also experienced a major winter storm last weekend in the central Rockies, particularly along the Front Range in Wyoming and Colorado. Cheyenne, Wyoming received more than 30 inches of snow, the biggest single-day snowfall on record. The storm was the fourth-largest in Denver history, with more than 27 inches officially recorded. Crews cleared multiple snowdrifts on our main line between Cheyenne and Denver that were five to six feet tall and over 30 feet long.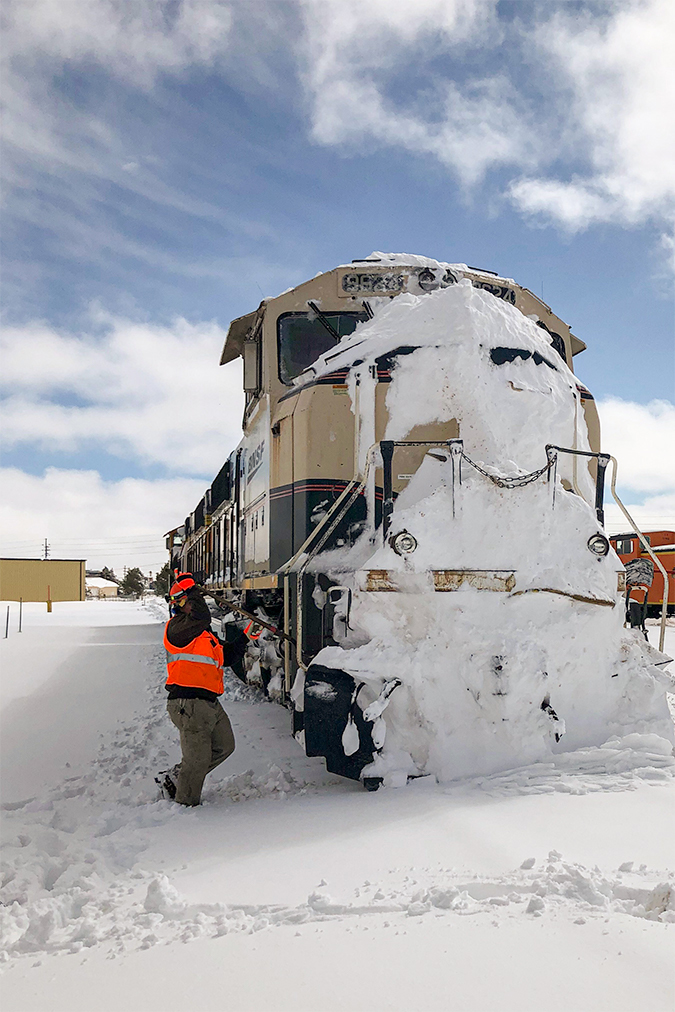 Clearing snow from locomotive at Cheyenne, Wyoming – March 16, 2021
This challenging environment in key parts of our network resulted in reduced average car velocity and higher terminal dwell, while still improved versus the prior month. Total volume increased for the third straight week and has rebounded back to levels last reported in mid-January. We continue to balance resources with freight demands as effectively as possible and adjust operating plans at intermodal facilities to improve efficiency.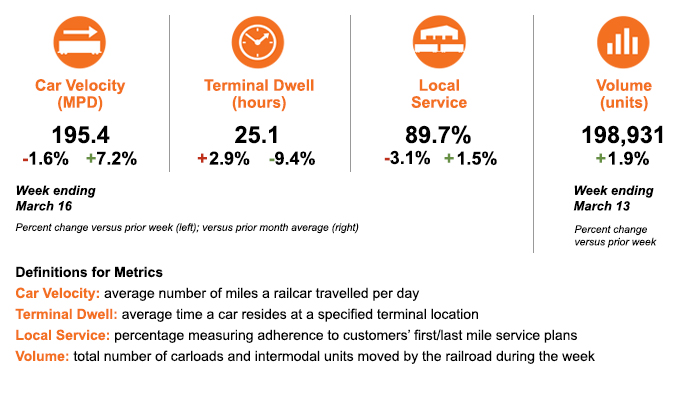 Service Expectations for the Week Ahead
While spring officially begins this weekend, some winter weather is again likely across parts of the Rockies and into the Southwest during the next several days. An active pattern remains in place across the network, with a potentially significant mid-week storm system. As always, BNSF teams are monitoring conditions closely and are prepared to quickly respond to any service disruptions.