Automotive Network Update for March 15, 2019
Operational Performance
BNSF is engaged in service recovery efforts in multiple areas across the northern and central Plains following another major winter storm. Blizzard conditions, with wind gusts to near 70 miles per hour, in Colorado, Wyoming, Nebraska, North Dakota, South Dakota and Minnesota caused significant train delays during the past two days. We are now confronting major flooding issues in the region, particularly in eastern Nebraska and western Iowa, as multiple subdivisions are currently out of service due to track washouts.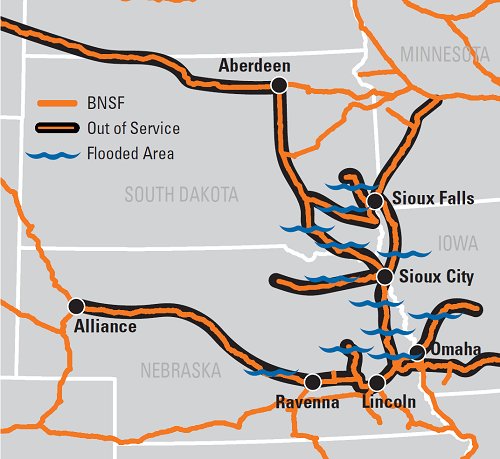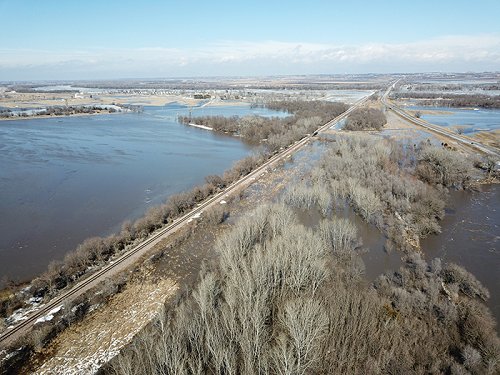 Flooding along the Creston Subdivision near Louisville, Nebraska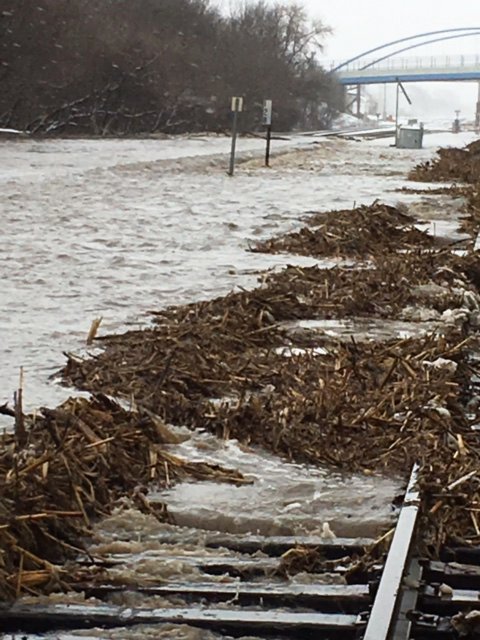 Flooded track on the Sand Hills Subdivision near Ravenna, Nebraska

With heavy rain and warmer temperatures from the storm accelerating recent snowmelt in the Missouri River Valley, as well as contributing to ice jams on area rivers, historic flooding has resulted in many locations. Thousands have been evacuated from low-lying areas as water levels continue to rise.

BNSF crews are assessing main line locations impacted by flooding and are making the necessary repairs where possible to restore service. As always, safety is our highest priority. With the current extent of the flooding, service outages may continue in some locations for an extended period.

The latest major storm has hindered our progress in generating improved service performance in our North Region. The number of total trains held has increased significantly during the past 48 hours. While key performance indicators were positive versus the previous week, velocity and terminal dwell remain below average levels from March of last year.

We continue to work with customers impacted by these service interruptions. If you have any questions regarding your shipment(s), please contact your BNSF representative or BNSF Customer Support at 1-888-428-2673. We understand the inconveniences associated with delayed shipments and appreciate your continued patience.

Service Expectations for the Week Ahead
Anticipated Mississippi River flooding may impact service by early next week on our Hannibal and River Subdivisions, where main lines run adjacent to the river in Missouri. BNSF Heartland Division teams have implemented procedures, including the re-routing of some traffic, to mitigate impacts from this expected disruption.

Favorable operating conditions are expected across the western U.S. during the next several days. With no major storms in the forecast and temperatures at or near normal levels across the Northern Corridor, BNSF operating teams will continue to focus on normalizing service through impacted areas.

Below is a look at the key operational performance categories for the week ending March 14:

Total trains held for the week decreased by more than 17 percent with an average of 154.1 trains held versus 185.9 trains held during the prior week.
Versus the March 2018 average: up by 44.7%

Total trains on the system was up by more than one percent versus the prior week with an average of 1,548 trains on the system.
Versus the March 2018 average: down by 0.8%
Car velocity, measured in miles per day (MPD), was up by more than two percent at 177.3 MPD versus 173.4 MPD recorded the prior week.
Versus the March 2018 average: down by 17.3%

Train velocity, measured in miles per hour (MPH), was up by nearly four percent versus the prior week at 15.7 MPH.
Versus the March 2018 average: down by 14.0%

Total volume decreased by nearly three percent from the prior week with 191,474 units moved in Week 10 (ending March 9) versus 196,631 units in Week 9 (ending March 2).

Terminal dwell was down by nearly three percent versus the prior week at 29.1 hours.
Versus the March 2018 average: up by 13.0%

As always, we thank you for your business and appreciate the opportunity to serve as your transportation service provider. We welcome your feedback and questions.