BNSF Addressing Service Interruptions on Southern Transcon in Iowa and Portions of Northern Corridor
BNSF is responding to significant service challenges in several areas of our network, specifically a portion of our Southern Transcon running through southeastern Iowa as well as in parts of our Northern Corridor, that have caused some disruptions to normal train flows.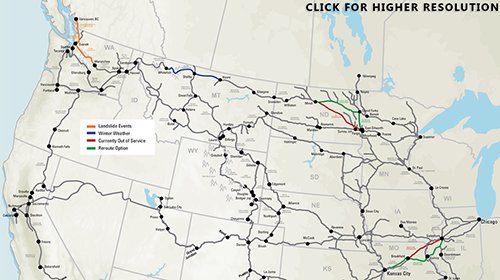 At 11:25 am Central Time today, a derailment occurred on our Marceline Subdivision, approximately four miles west of Ft. Madison, Iowa. Both main line tracks in this location are currently out of service. The train involved in the incident was utilizing trackage rights to operate on this portion of the subdivision. As it occurred on the busy Southern Transcon route, traffic to/from Chicago as well as train flows on adjacent subdivisions and at various BNSF terminals is being significantly impacted. Some traffic is being re-routed, however, customers should expect extended transit times and delays until service is fully restored through the area.

We also experienced a derailment early this morning involving a grain train on our KO Subdivision in North Dakota, approximately 30 miles east of Minot. There were no injuries and no hazardous materials involved. BNSF teams have begun clearing the scene, however, there is currently no estimated time for service to be restored through this location. We are re-routing traffic on adjacent subdivisions to minimize this disruption as much as possible.

Above normal rainfall in the Pacific Northwest, with some locations like Bellingham, Washington receiving more than two inches this past weekend and a year-to-date total of more than seven inches, has caused multiple landslide during the past several days. Normal train flows in the area have been impacted as service has been briefly suspended on the following subdivisions following each event:

Bellingham Subdivision, which runs between Everett, Washington, approximately 30 miles north of Seattle, and the U.S./Canadian border
Scenic Subdivision, between Wenatchee in central Washington and Everett, WA
New Westminster Subdivision near Vancouver, British Columbia

A portion of the Bellingham Subdivision, approximately 10 miles south of Bellingham, is currently out of service due to ongoing track restoration work but is expected to reopen tonight. While crews have cleared other blocked locations, the risk for additional landslides in these areas remains high. BNSF operations teams are monitoring susceptible areas closely and will continue to respond quickly to any disruption.

In Montana, extreme winter weather is causing some train delays on our Hi Line Subdivision, which runs between Whitefish and Havre, Montana. Along with single digit temperatures, the area received more than three feet of snow this weekend and into this morning, which has caused delays and temporary speed restrictions while BNSF crews continue to clear snow-covered locations. The threat for avalanches is also elevated along portions of our main line through Glacier National Park. Train flows are expected to normalize as operating conditions begin to improve.

If you have any questions regarding your shipment(s), please contact BNSF Customer Support at 1-888-428-2673 (select option 4, then option 3). We appreciate your patience and will continue to provide you with further updates.