Chicago, St. Paul Intermodal Update
Extreme cold across the northern Plains and upper Midwest continue to cause significant operational challenges for train and hub operations in the region. BNSF's Chicago/St. Paul Intermodal Facilities are especially challenged due to a substantial number of inbound trains currently staged and elevated inventory levels.

We recognize the impact that these challenges are having on customers' supply chains and operations. Teams are working around the clock to restore normal operations and we anticipate that service levels will continue to improve throughout the week. Embedded below is an overview of current conditions and specific challenges we are currently facing (by facility).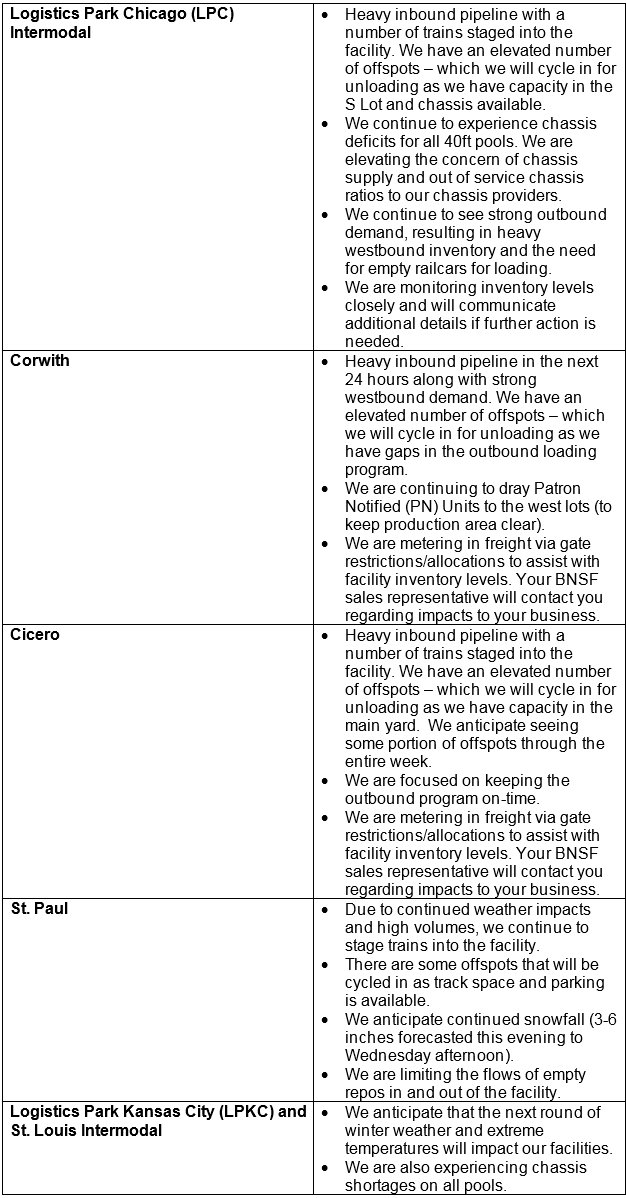 Drivers operating in and out of intermodal facilities should download and use the RailPASS mobile application to receive real-time updates and instructions to enhance the productivity of their visit. As announced last week, we are requesting drivers only park in the designated spot identified on their J1 receipt. If the spot indicated on the J1 is occupied, drivers can park in a nearby spot within that lot and report the new location via RailPASS or during the outgate process.

As we have communicated, our focus is on restoring normal operations as quickly and effectively as possible. If you have any questions regarding your shipment(s), please contact BNSF Customer Support at 1-888-428-2673.

We will continue to provide customers with further updates.