Coal Network Update for Friday, May 14, 2021
Operational Performance
BNSF operating teams continue to direct their efforts toward driving greater network productivity and reducing congestion at several terminals. As demand remains strong across multiple business segments, we remain focused on aligning resources with freight volumes.
We have generated some improvement this week in key service metrics. Overall car velocity increased and is slightly above the average level recorded in April. Average terminal dwell as well as our local service compliance measure are both currently running about two percent better than the prior month.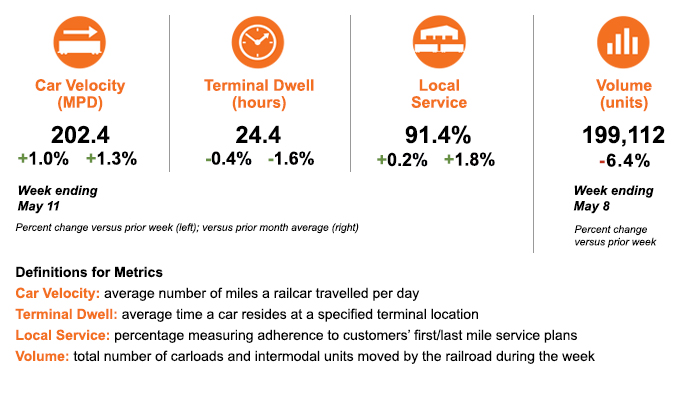 In the current freight environment, ongoing collaboration between BNSF and customers is key to driving performance improvement and efficiencies. The prompt pick-up of shipments that have been unloaded at intermodal facilities remains critical. We encourage customers to utilize our suite of Web and mobile tools to track shipments.
Also, we offer a suite of application programming interfaces (APIs) which make it easy to retrieve data from BNSF and take actions to manage shipments directly in your applications. For more information or assistance with implementing APIs, please contact our technical support team at the following email address: CustomerAPI@bnsf.com.
Network Maintenance
Capital gangs remain active across the BNSF network with ongoing rail and/or tie replacement projects, including in areas on our Northern and Southern Transcon routes. Some trains may experience delays and/or speed reductions through locations where maintenance work windows are in effect. As always, our operations and engineering teams are working together to mitigate any delays.
As part of our capital program, BNSF conducts comprehensive inspections and significant maintenance work throughout the year on our 13,000 bridges across the network to ensure that each bridge remains safe, secure and structurally sound. Our engineering team recently completed a two-year project in north Texas that replaced a 70-year-old timber bridge, which crosses the Trinity River near Dallas, with a new steel and concrete bridge. The original span was built in the 1940s and was 1,200 feet long. The new structure, with a foundation made of approximately 500 tons of steel and supported by more than 100 concrete beams, is more than a quarter-mile long and built to avoid the impact of the 100-year floodplain in the area.
Service Expectations for the Week Ahead
Multiple rounds of severe weather are expected in the Southern Plains this weekend and into early next week. This active pattern will likely bring heavy rainfall to parts of Texas. BNSF teams in the region are monitoring conditions for any potential service impacts. In most other areas of the network, favorable operating conditions are expected during the upcoming week.
As always, we thank you for your business and appreciate the opportunity to serve as your transportation service provider. We welcome your feedback and questions.