Coal Network Update for Friday, May 8, 2020
Operational Performance
The operation continues to deliver strong, consistent overall service performance across the network. Though lower versus the prior week, car velocity is exceeding the average level reported for last month as well as year to date while terminal dwell was slightly higher. Our local service compliance measure continues to exceed 93 percent.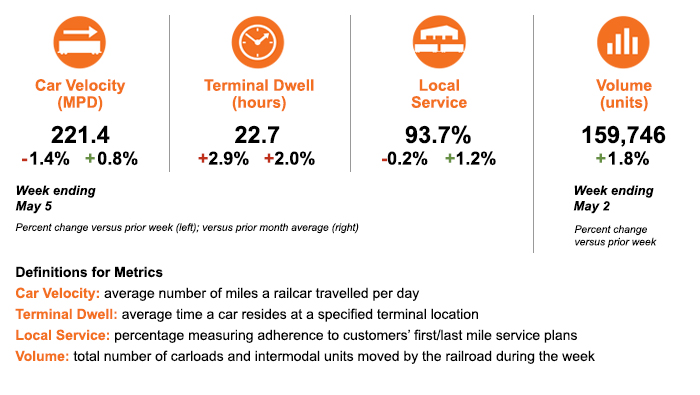 We experienced a derailment yesterday evening in central California, approximately 35 miles southeast of Bakersfield. The single main line track at this location is currently out of service, which is impacting some traffic designated to move on this primary route between northern and southern California. BNSF teams and contractors are completing track repairs, and service is expected to be restored later today. Traffic flows through the area should quickly return to normal this weekend.

COVID-19 Response
In the wake of the COVID-19 outbreak, train operations have remained normal thanks to the dedicated efforts by BNSF employees. Freight shipments, particularly the critical goods that our nation needs during this challenging time, are reaching their destinations as quickly as possible. As the shipping environment continues to evolve, we encourage customers to communicate with us any changes in their freight transportation needs. For more information on the actions and additional precautions we have taken in response to this pandemic, as well as helpful resources, please visit our Coronavirus/COVID-19 Response webpage.

Reminder: Unit Train Forecasting Protocol Changes
As we notified last month, BNSF is adjusting the rule item governing the last day that shippers and mines may make changes to the next month's nominations in the Coal Forecasting Tool (CFT). Shippers must now have nominations entered into the CFT no later than the close of business on the 15th day of the preceding month, and the shipper's coal supplier (mines) no later than the close of business on the 16th day of the preceding month.

These revised rules are applicable to June 2020 nominations, which shippers must enter into the CFT by May 15, 2020. With an earlier understanding of shipping needs for an upcoming month and your collaboration, BNSF teams can deploy resources, including equipment and crews, even more effectively. If you have any questions, please contact your BNSF representative.

Service Expectations for the Week Ahead
Favorable operating conditions are expected across much of the network during the upcoming week. No extreme weather events affecting rail service are anticipated at this time.

Track maintenance work is ongoing across the BNSF network, with several projects running ahead of schedule. Operating teams continue to focus on minimizing any train delays resulting from scheduled daily work windows.