Coal Network Update for Friday, November 20, 2020
Operational Performance
The BNSF network is currently running well with no major service interruptions. Car velocity was up versus the previous week as well as versus the average for October. Average terminal dwell increased slightly but remains steady with last month's level. We also reported the highest weekly volume of the year to date (week ending November 14) at nearly 205,000 units. This is the fourth week in 2020 where total volume on the network exceeded the robust 200,000-unit level, which have all occurred in the past six weeks.
With elevated demand for agricultural products, our Northern Transcon between Chicago and the Pacific Northwest remains busy. Freight traffic is also heavy on our Southern Transcon, between Chicago and Southern California, driven by strong intermodal shipment demand. Operating teams continue to make adjustments to align resources as effectively as possible to maintain strong productivity and fluidity along these corridors.
As some communities report escalating COVID-19 cases, BNSF continues to take the necessary precautions to protect the health and safety of our employees and contractors. We have reinforced adherence to proper safety protocols and deployed a new online tool for self-reporting exposure to COVID-19. BNSF facilities and locomotives have been subject to enhanced cleaning routines and disinfecting procedures since March.
In California, where a "Limited Stay at Home" order takes effect in many counties starting tomorrow, railroad employees remain exempt as part of the state's Critical Infrastructure workforce. While the outbreak in California and other states has recently worsened, we have well-established plans to ensure that rail operations are maintained throughout the network.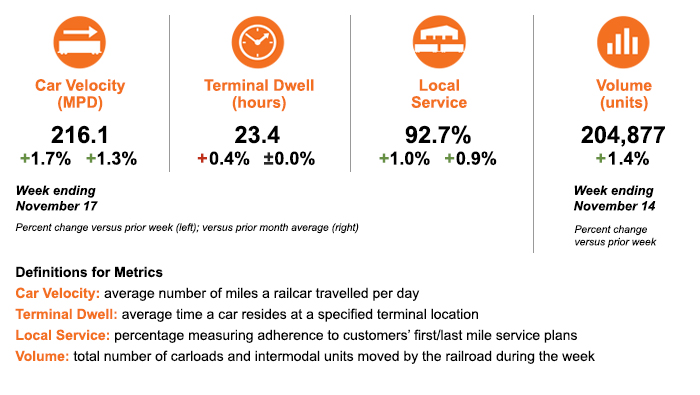 Thanksgiving Holiday Operating Plan
BNSF's Thanksgiving Day and Day after Thanksgiving, November 26-27, operating plan will remain focused on meeting customers' expectations. Coal trains - both loaded and empty - will continue to operate according to normal schedules throughout the holiday period. If you have questions, please contact your BNSF marketing representative.
Service Expectations for the Week Ahead
Favorable operating conditions are expected across much of the network. While no major winter storms are forecasted at this time, we are monitoring the risk for some strong winds and snow in the higher elevations of the interior Pacific Northwest during the first half of the holiday week. As always, BNSF operating teams will make adjustments as necessary to support safe operations.