Coal Network Update for Friday, September 25, 2020
Operational Performance
BNSF operating teams are generating improved performance and building on positive momentum going into the weekend. Car velocity increased slightly versus the prior week. Our local service compliance measure continues to reflect improved efficiencies in the handling of carload freight.
Total volume for the week ending September 19 was the highest weekly level moved this year. As we move into what is typically the peak shipping season, we remain focused on aligning resources as effectively as possible to support changing freight demands.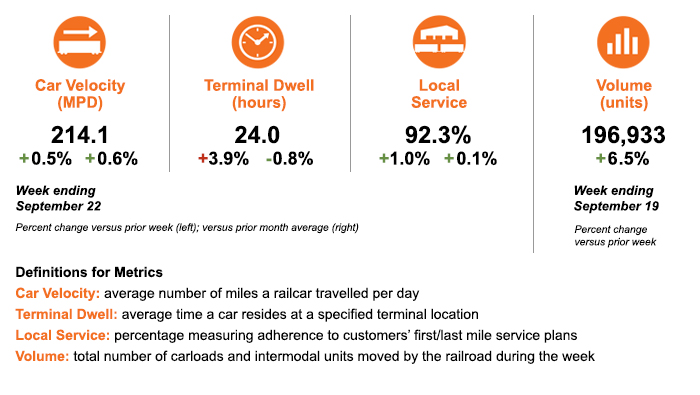 Earlier this week, operating teams responded to service challenges that occurred Tuesday in both Arizona and New Mexico. Some trains experienced delays as traffic was restricted to a single track in the affected locations for several hours. Traffic flows on the Southern Transcon through the region have since normalized with improving velocity and fluidity.
Heavy Bridge Program Update
BNSF recently installed a new bridge span at Drano Lake in Washington, which is located approximately 60 miles east of Vancouver. The bridge span was constructed remotely and floated into place by barge down the Columbia River due to the geographic constraints of the area. Engineering crews were able to install the span during a 36-hour work window, with the first train crossing the new bridge on Monday, September 14.
This new bridge is one of several current replacement projects under BNSF's Heavy Bridge Program. Under this program, large bridge structures, such as those spanning large waterways, are identified and replaced based on their condition as they near the end of their useful life. BNSF also conducts comprehensive inspections and significant maintenance work throughout the year on our 13,000 bridges across the network to ensure that each bridge remains safe, secure and structurally sound.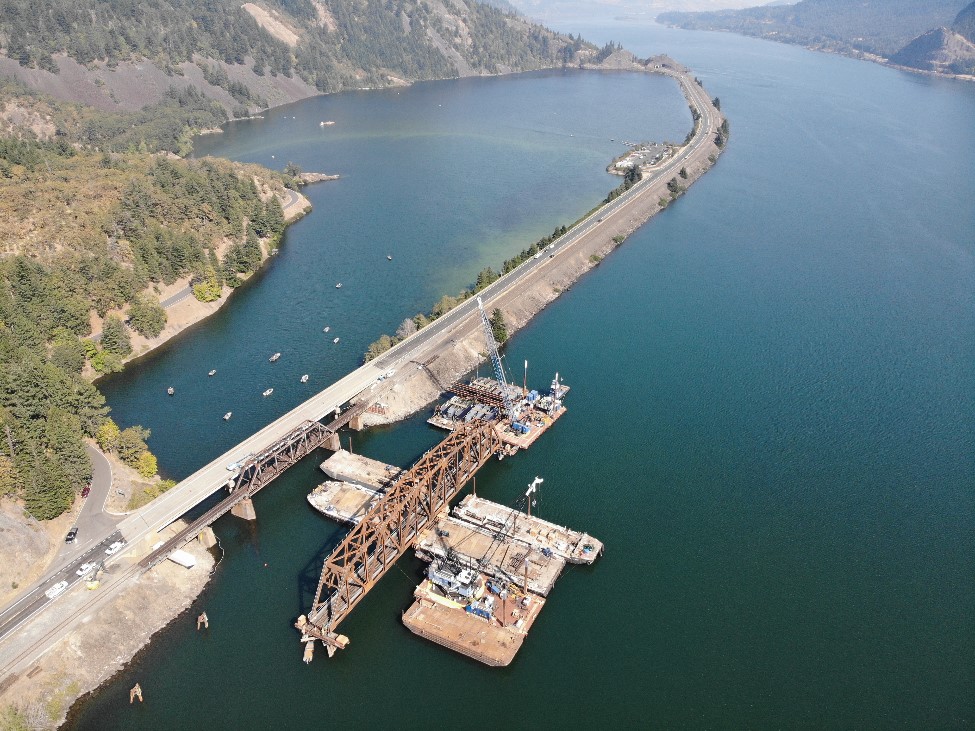 BNSF crews install a new bridge span at Drano Lake in Washington – September 10, 2020
Service Expectations for the Week Ahead
Following heavy rains from Tropical Storm Beta, locations across the Gulf Coast should experience mostly dry weather during the next several days. Record-challenging heat and high winds are expected across portions of the West next week, with the risk for wildfire activity remaining high in California. BNSF teams are monitoring conditions closely and remain in close communication with fire officials.
Favorable operating conditions are expected across much of the BNSF network during the upcoming week.