Derailment Impacting Operations in Arizona Major Winter Storm May Cause Additional Service Challenges
BNSF experienced a derailment yesterday afternoon at Joseph City, Arizona, approximately 24 miles east of Winslow. As this incident occurred on the Southern Transcon, our primary route between Southern California and the Midwest, rail operations have been significantly impacted. Both main line tracks in this location are currently out of service.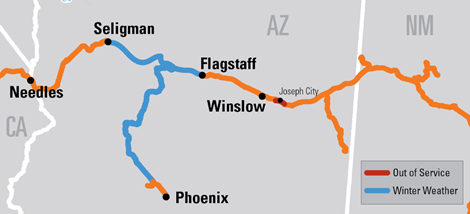 Recovery operations were delayed due to weather conditions and a highway closure overnight, however, engineering teams and equipment are at the scene. The first main track is estimated to reopen as soon as late tonight, with the second main line back in service tomorrow morning.
With the high volume of traffic to/from California, as well as to/from the Phoenix area, customers with shipments designated to move through this corridor should expect delays until operations have fully normalized.
In addition, we could experience service challenges in the region as a major winter storm is bringing heavy snow and high winds to locations in the higher elevations between Seligman and Flagstaff as well as north of Phoenix. Nearly two feet of snow is possible in the Flagstaff area through tomorrow.
BNSF teams have also activated winter action plans in areas stretching from eastern Nebraska into northern Illinois, including parts of the Chicago area, with heavy snow expected today through early tomorrow.
If you have questions regarding your shipment(s), please contact BNSF Customer Support at 1-888-428-2673. We will continue to provide impacted customers with further updates.