Flooding Impacting Operations in Portions of South Dakota, Minnesota and Wisconsin
BNSF is currently addressing service disruptions in portions of eastern South Dakota, southwestern Minnesota as well as southwestern Wisconsin, along our main line between Chicago and the Twin Cities, due to flooding. Heavy rainfall during the past few days has produced several track washouts and high water locations on multiple subdivisions.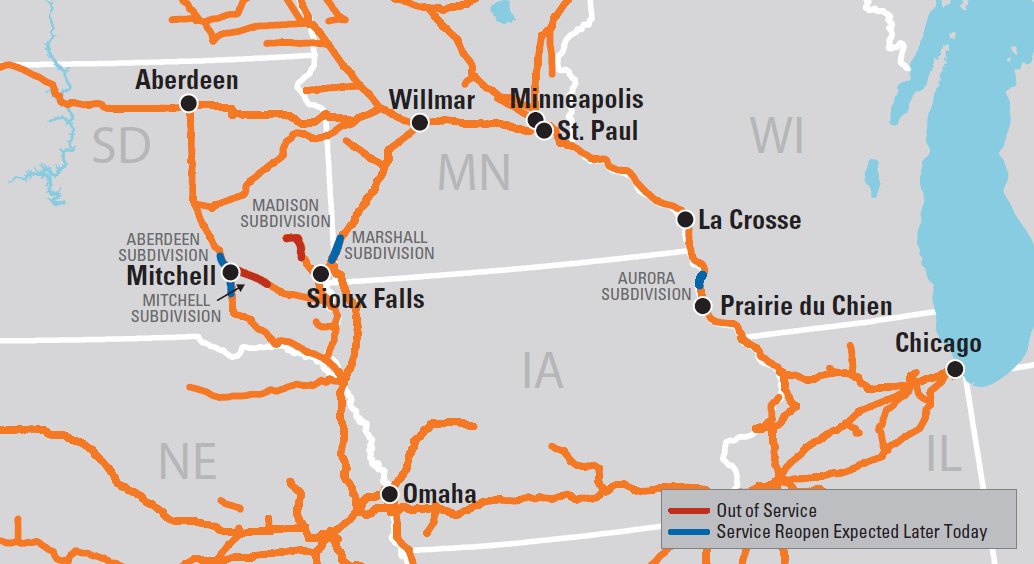 Some trains, specifically those designated to move on the Marshall and Aurora Subdivisions, are experiencing delays and extended transit times. BNSF operating teams are re-routing some trains to minimize disruption as much as possible. Service on these subdivisions is expected to be fully restored this afternoon.

Crews are also working to restore service in other affected locations in South Dakota. The Aberdeen Subdivision is expected to fully reopen tonight, with estimates on service restoration for the other subdivisions still pending.

Conditions in the region will improve through the weekend and into next week, however, flooding issues in some locations may persist.

If you have questions about your shipment(s), please contact BNSF Customer Support at 1-888-428-2673.

We will continue to provide affected customers with further updates.