Industrial Products Network Update for Friday, June 11, 2021
Operational Performance
BNSF operating teams continue to direct their efforts toward driving greater network productivity and reducing congestion at several terminals. As demand remains strong across multiple business segments, we remain focused on aligning resources with freight volumes.
Regarding key service metrics, overall car velocity was down about three percent while average terminal dwell was reduced slightly versus the prior week as well as the prior month. Our local service compliance measure, which reflects our efficiency in the handling of carload freight, continues to exceed 90 percent. With the Memorial Day holiday included, total volume was down during the latest reporting week.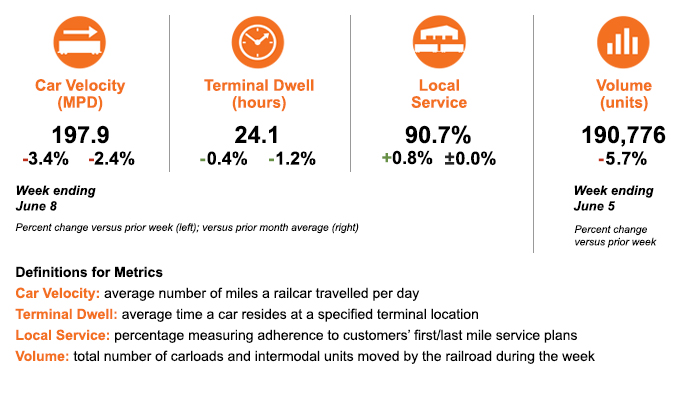 Interchange traffic designated to move into/out of our El Paso gateway is experiencing delays due to a derailment that occurred Tuesday afternoon in central Mexico. Several BNSF trains are currently holding while restoration efforts are ongoing. Service through the incident location is expected to reopen by midday tomorrow. Affected customers should expect lingering delays until interchange operations have fully normalized.
Service Expectations for the Week Ahead
Excessive heat warnings are in effect next week across southeast California and into western Arizona, which includes our Southern Transcon route through the region. Some locations may experience record high temperatures exceeding 120 degrees. BNSF teams are monitoring conditions closely and will conduct additional track inspections as necessary.
Most other areas of the BNSF network, including parts of Texas and the Gulf Coast that have received heavy rainfall during the past few weeks, will experience favorable operating conditions with no significant severe weather expected at this time.
As always, we thank you for your business and appreciate the opportunity to serve as your transportation service provider. We welcome your feedback and questions.