Intermodal Network Update for Friday, December 16, 2022
Operational Performance
BNSF teams are responding to a broad range of significant service challenges across our network due to extreme winter weather conditions. Along our Northern Corridor, stretching from Montana through the Chicago area and into the Powder River Basin through the Plains, BNSF operating crews are confronting blizzard conditions, including frigid air temperatures, heavy snow and high winds. Mandan, North Dakota, has received 20 inches of snow in the past 24 hours. The significant winter storm over the northern Plains and Upper Midwest is expected to finally weaken today after producing several consecutive days of heavy snow across the region.
Each of our affected operating divisions has implemented their respective Winter Action Plan to ensure that our workforce is able to work safely in these conditions and that we can continue to keep trains moving as efficiently as possible. Numerous road closures have been reported, which have affected our ability to move train crews and other personnel. We are utilizing special "snow coach" trains as necessary to reposition crews. We also established a round-the-clock command center to manage the deployment of additional personnel and resources, including snow removal equipment, in response to any service issues. Customers with shipments designated to move through the region should expect extended delays.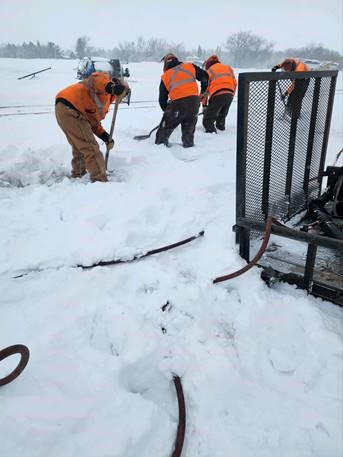 BNSF personnel clearing switches on the KO Subdivision – North Dakota
With heavy rainfall and mountain snows in northern California, a washout, as well as a rockslide were reported Saturday on our trackage rights line at Pulga, CA, approximately 95 miles north of Sacramento. On Tuesday, about 45 miles northeast of Pulga, BNSF operating teams responded to an incident on our track near Keddie, California. Trains are being rerouted as the impacted track is currently out of service, with an estimated reopening Sunday evening. Customers with shipments moving between the Pacific Northwest and California should expect lingering delays until traffic flows fully normalize early next week.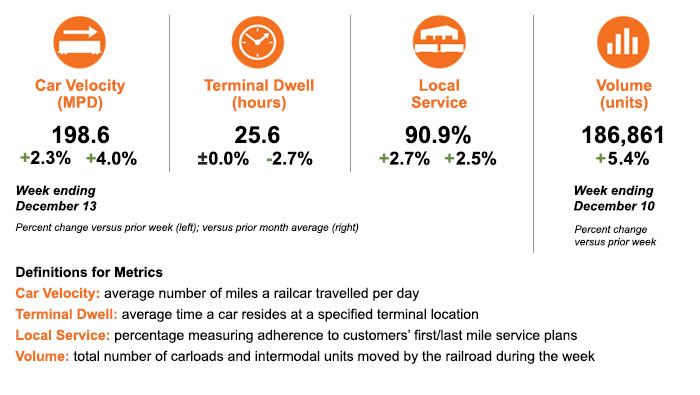 Average car velocity increased versus the prior week and the prior month, along with our local service compliance measure, which reflects our efficiency in handling carload freight. Terminal dwell remains about the same versus the prior week but has improved when compared to the November average level. The total volume for the reporting week was up over 5%.
Intermodal Update
Despite facing significant weather-related challenges in the Northern Corridor this week, intermodal service continues to improve, with last week's velocity reaching the highest since January last year. Since the first week of the peak holiday shipping season, we have seen velocity improve by more than 12%. Our operating teams remain focused on generating consistent and reliable service and building on the positive momentum going into the new year. We expect to deliver stronger performance in the weeks ahead and look forward to the opportunity to meet all of your intermodal shipping needs. Please reach out to your marketing representative for additional information.
We remind customers that prompt pick-up of shipments will help improve traffic flows, reduce lot congestion and provide the space needed for processing inbound freight as expeditiously as possible. BNSF has multiple tools available for customers to track their shipments.
Service Expectations for the Week Ahead
The week-long storm will make its way into the Northeast today and tomorrow, but an outbreak of Arctic air will drive temperatures below zero across the Northern and Central Plains through the weekend and into next week. By Monday morning, low temperatures are expected to be below zero from Billings, Montana, through the Dakotas and into Minneapolis-St. Paul. By Friday, a morning low of minus 26 is predicted in Bismarck, North Dakota.
We have deployed additional personnel and resources to the affected areas, including snow removal equipment. Train restrictions have also been implemented in parts of Montana in advance of this cold weather system. When operating in cold weather conditions, train length restrictions and distributed locomotive power are helpful to trains' braking system performance. To further assist in BNSF train operations, especially in cold weather conditions, BNSF has petitioned the Federal Railroad Administration (FRA) to increase the maximum air flow limits in train braking systems. While this petition still remains in FRA review, approval of these tested and safely proven airflow limits would mitigate long and unnecessary train stops, aid with train length restrictions and allow BNSF to maintain better traffic flows during winter operations.