Intermodal Network Update for Friday, February 15, 2019
Operational Performance
BNSF continues to confront frequent extreme winter weather across much of the northern tier of our network from the Pacific Northwest into Chicago. Heavy snowfall and frigid temperatures have significantly impacted velocity and fluidity throughout the region. With only brief intervals of favorable conditions this month, BNSF teams have been limited in their ability to sustain normal operations in many areas after recovery operations have been completed.

Record-breaking snowfall in Washington during the past week, with the Seattle/Tacoma area already experiencing its snowiest month in 50 years, has caused disruptions to normal train flows to/from the state. Our Scenic Subdivision, which runs through the Cascade Mountains between Wenatchee and Everett, WA, has experienced several service interruptions during the past week with multiple feet of snow received over the past few days. Another round of winter weather during the next 24 hours may limit ongoing service recovery efforts.

In Montana, we have confronted both Arctic cold as well as heavy snowfall in many locations. Crews were on the scene of a large avalanche that occurred Wednesday afternoon on our Hi-Line Subdivision in Glacier National Park. The avalanche had blocked one of two main tracks through this location. Snow removal efforts were completed yesterday afternoon and service on the second main track has been restored. The risk for additional avalanches in this area, however, remains elevated and additional snow is in the forecast.



We also experienced service challenges earlier this week in our Chicago Division due to widespread commercial power outages that affected switches and switch heaters in multiple locations. In Missouri, ice dam flooding along portions of the Mississippi River forced a half-mile portion of our Hannibal Subdivision just south of Iowa/Missouri border out of service last Saturday afternoon. This short video highlights the extent of the flooding and water flow over our main line in this location.

Nearly all trains designated to move through this location during the track outage were re-routed. With receding water levels as well as efforts made by our engineering teams working with the Army Corps of Engineers, the main track was restored to service Tuesday evening.

Other areas of the network, while not directly experiencing the extreme weather, have also been impacted due to interconnected systems and resource imbalances resulting from harsh operating conditions elsewhere. We appreciate your patience as we respond aggressively to disruptions. As always, BNSF crews and equipment are working around the clock to restore service as quickly as possible. Additional resources have also been re-deployed to help improve train flows through these affected areas.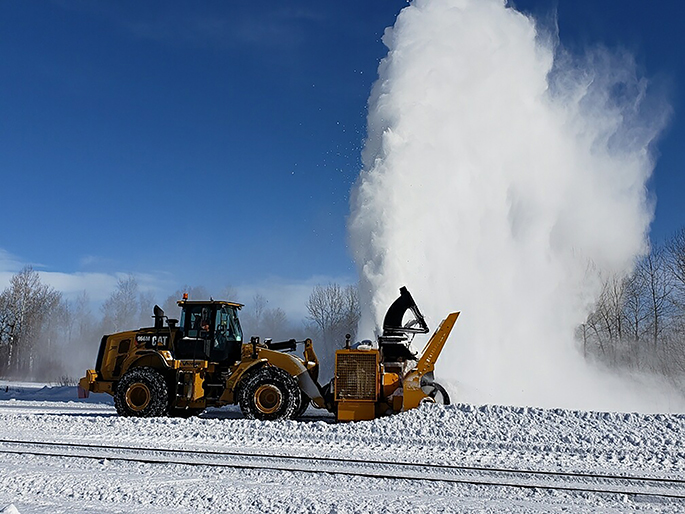 2019 Capital Plan
BNSF announced our 2019 capital investment plan earlier this week. The focus of the $3.57 billion plan is on continuing to operate a safe railroad that meets customers' demands. The largest component of the plan, approximately $2.47 billion, will be to replace and maintain BNSF's core network and related assets. This year's maintenance program will include approximately 12,000 miles of track surfacing and/or undercutting work and the replacement 535 miles of rail and nearly 2.3 million rail ties.

Approximately $760 million of this year's capital plan has been allocated for expansion and efficiency projects. We will provide further details on many of the line capacity projects in subsequent updates throughout the year.

Intermodal Update

New RailPASS Gate Notification Feature Highlights Hub and Lot Location Updates
Effective Sunday, February 17, trucking partners operating in and out of intermodal facilities will begin receiving notifications of gate changes if they use the RailPASS mobile application. This new enhancement will provide drivers with real-time updates and instructions to enhance the productivity of their visit - allowing them to adapt their plans quicker and easier.

New Policy to Encourage Parking Compliance at Intermodal Hub Locations
In an effort to improve parking compliance at its Intermodal Hub locations and reduce the amount of shipments being left in unauthorized locations, BNSF will be implementing gate entrance restrictions for any driver who drops off a shipment that blocks nearby parking stalls, roadways or aisles. Drivers are encouraged to park in the designated spot identified on their J1 receipt.

Trucking partners who are linked to a shipment that is left in an unauthorized spot could be kept from entering a facility on their next visit and could receive more extensive or permanent access restrictions if violations continue. Overall parking compliance will help improve traffic flows and reduce congestion at BNSF Hub locations.

Service Expectations for the Week Ahead
Winter weather will remain active across the western U.S. during the week ahead with multiple storm events expected. BNSF teams continue to monitor conditions throughout the network and will respond as aggressively as possible to any service interruptions.

Below is a look at the key operational performance categories for the week ending February 14:

Total trains held for the week decreased by nearly three percent with an average of 152.6 trains held versus 156.6 trains held during the prior week.
Versus the February 2018 average: up by 12.0%

Total trains on the system was up by nearly two percent versus the prior week with an average of 1,504 trains on the system.
Versus the February 2018 average: up by 6.2%

Car velocity, measured in miles per day (MPD), was down by more than four percent at 180.2 MPD versus 188.0 MPD recorded the prior week.
Versus the February 2018 average: down by 14.5%

Train velocity, measured in miles per hour (MPH), was down by nearly two percent versus the prior week at 15.7 MPH.
Versus the February 2018 average: down by 11.9%

Total volume increased by more than one percent from the prior week with 190,494 units moved in Week 6 (ending February 9) versus 188,294 units in Week 5 (ending February 2).

Terminal dwell increased by nearly six percent versus the prior week at 29.7 hours.
Versus the February 2018 average: up by 12.9%

As always, we thank you for your business and appreciate the opportunity to serve as your transportation service provider. We welcome your feedback and questions.