Intermodal Network Update for Friday, February 19, 2021
Operational Performance
Recovery efforts are ongoing as BNSF teams are making progress in restoring normal operations. After another frigid morning across much of the network, including record-breaking low temperatures in Texas, weather conditions are improving, and operating teams are fully engaged in driving improved service performance heading into the weekend.
As we have reported, the extreme weather experienced this week across our North Region, through the central core of the network and deep into Texas caused a broad range of major service challenges. Many trains were forced to hold due to air flow issues resulting from the Arctic cold. We also confronted significant snow and/or ice accumulations from the Pacific Northwest to the Gulf Coast, including in key locations like Chicago, Kansas City, Tulsa, Fort Worth and Memphis. Numerous power outages this week, particularly in Texas, also impacted crew deployments and other personnel.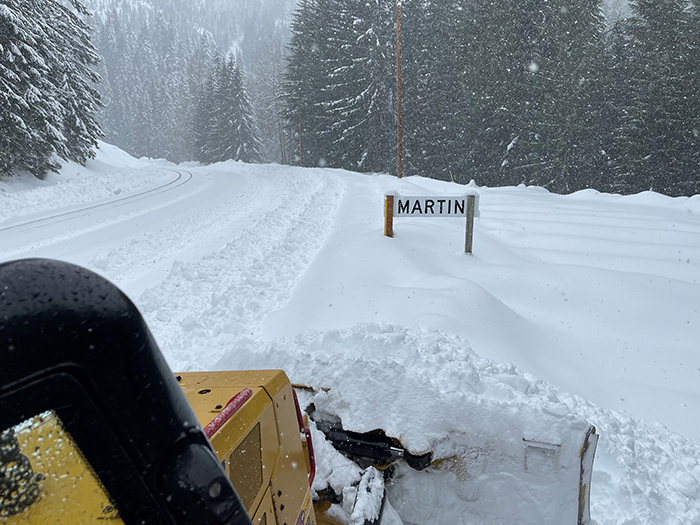 Snow clearing at Martin, Wash., east portal of Stampede Tunnel – February 18, 2021
(The station sign is 11 feet high.)
While winter action plans were activated, and all available resources called up and coordinated by multiple command centers, this very challenging environment resulted in significantly reduced car velocity and higher terminal dwell versus both the prior week and the average levels for January. Total volume was also down by a substantial margin due to reduced productivity and congestion at multiple terminals.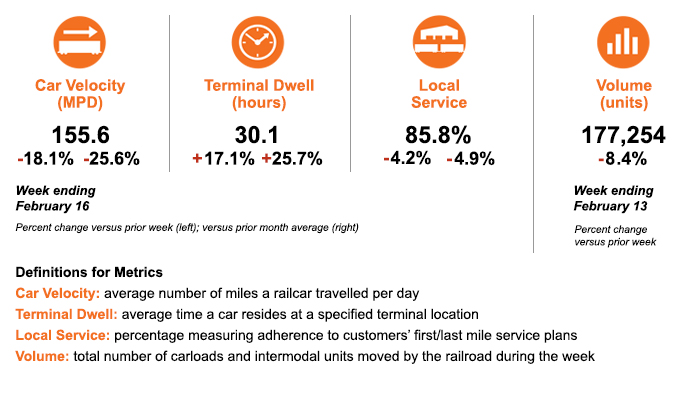 BNSF crews have been working around the clock in the harshest of winter conditions to safely move as much freight as possible. Some have battled frigid temperatures around 30 below zero while others have been involved in frequent snow clearing operations, including in the Chicago area where it has snowed for 13 out of the past 18 days.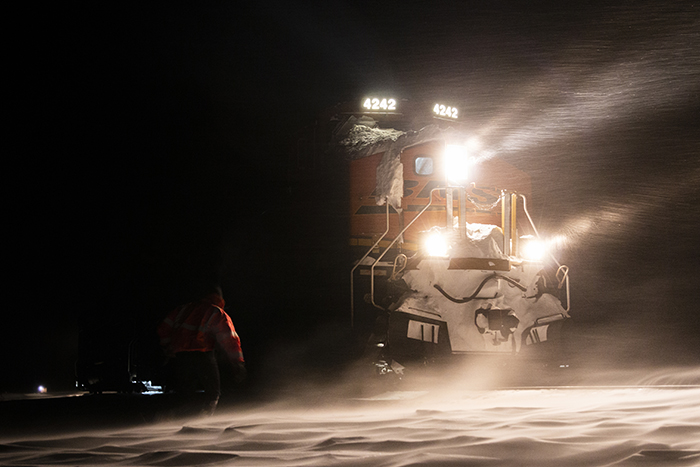 Crews out clearing tracks near Aurora, Illinois – February 15, 2021
While it will take some time to clear backlogs, particularly in southern areas of the network, our operating teams will continue working aggressively to restore service as quickly as possible.
As many customers have been impacted by the extreme weather, BNSF Customer Support has received a high volume of calls during the past several days. Power and water outages in the Fort Worth area have also contributed to long wait times. If you are a customer in need of assistance, we encourage you to utilize the Message Us feature on the BNSF Customer Portal (must be registered/logged in to access).
We are experiencing processing delays at our Chicago intermodal facilities: Corwith, Cicero, Logistics Park Chicago (LPC) and Willow Springs. While production is improving as crews have cleared snow from switches and lots, some additional snowfall is anticipated for the region on Sunday. We have also mobilized additional equipment and engineering teams to help keep switches clear and operable in the upcoming days as we enter a new weather pattern with freeze and thaw cycles.
Gate allocations have been put in place at several of our intermodal hubs to ease congestion and support recovery efforts. While these allocations will continue to be reevaluated and updated as conditions change, we anticipate that some will likely remain in place into early next week.
Elevated inventory levels at our Alliance Intermodal Facility serving the Dallas Fort Worth region are also causing lot congestion. Off-site parking for both inbound and outbound shipments is being fully utilized.
As conditions allow, customers are encouraged to prioritize the pick-up of shipments that have been unloaded at these facilities. Prompt pick-up will help improve traffic flows, reduce lot congestion and provide the space needed for processing inbound shipments as quickly as possible.
BNSF has multiple tools available to customers to track shipments. We also encourage drivers to download and use the BNSF RailPASS mobile application to receive real-time notifications, instructions and inventory updates that can help speed recovery.
Service Expectations for the Week Ahead
With favorable operating conditions expected across much of the network during the upcoming week, we expect to generate significant velocity gains and improved fluidity. Train length restrictions are not anticipated as temperatures should stay well above zero throughout the North Region. An active weather pattern will continue to bring frequent rain and some heavy snow in the higher elevations of the Pacific Northwest, however, no major service disruptions are anticipated at this time.
Resetting the network, in terms of effectively balancing resources with train flows, will require additional time beyond the next several days. We appreciate your patience as progress is made in returning to service to the levels generated prior to the recent storms.