Intermodal Network Update for Friday, January 5, 2018
Operational Performance
The operation continues to address service challenges from extremely cold weather that has impacted much of our Northern Corridor, including the Chicago area, during the past two weeks. Frigid temperatures, which dropped to more than 30 degrees below zero in some locations, have caused train delays and several service interruptions. Overall velocity for both cars and trains is down from the average levels reported in December, however, each has steadily increased following the New Year's holiday as operating conditions have improved across the BNSF network. Terminal dwell and the number of trains holding were elevated during the Christmas and New Year's holiday period but have been significantly reduced in the past few days.

Each BNSF operating division has a winter action plan to ensure that resources and procedures are in place to address severe weather conditions. In this short video, we highlight the impact that extremely cold temperatures can have on equipment and network infrastructure, and we discuss the actions that BNSF must take to ensure that we continue to operate safely: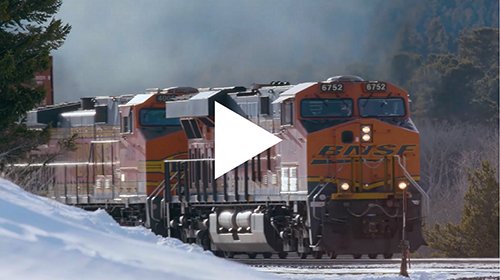 Alliance Intermodal Facility Update
Strong market demand and elevated inventory levels associated with the holiday-related slowdown in pick-ups and deliveries are having the greatest impact on our Alliance Intermodal Facility in Fort Worth, TX. These traffic patterns have also resulted in chassis deficits in the DFW market and are adding to the current inventory challenges.

While BNSF continues expansion projects at our Alliance facility to address volume increases, an ongoing collaborative approach with the entire supply chain remains vital in gaining additional capacity out of our existing network. The round-the-clock, seven-day-a-week operating schedule at Alliance ensures that shippers have the ability to drop off or pick up shipments at any time. Off-peak hour drop-offs and pick-ups reduce the congestion that can occur during peak times.

We are also focused on working together to reduce the amount of time that a container/trailer dwells at Alliance, which helps alleviate the need to dray equipment to satellite lots. As a reminder, BNSF offers multiple ways to track your units, enabling you to verify whether your container is at Alliance or a satellite lot. Click here for more information on the tools available to customers to track shipments.

Service Expectations for the Week Ahead
No additional Arctic cold outbreaks are expected during the next several days as temperatures return to near normal levels across the North. While an active weather pattern returns in the Pacific Northwest, operating conditions for this time of year should remain favorable across much of the network.

Below is a look at the key operational performance categories for the week ending January 4:

Total trains held for the week decreased by more than 37 percent with an average of 118.1 trains held versus 186.7 trains held during the prior week.
Versus the January 2017 average: up by 29.1%

Total trains on the system was essentially unchanged versus the prior week with an average of 1,283 trains on the system.
Versus the January 2017 average: down by 6.2%

Car velocity was up by nearly three percent at 197.0 MPD versus 192.2 MPD recorded the prior week.
Versus the January 2017 average: down by 6.0%

Train velocity, measured in miles per hour (MPH), was up by nearly five percent versus the prior week at 17.9 MPH.
Versus the January 2017 average: down by 2.8%

Total volume was down by more than 25 percent from the prior week with 153,830 units moved in Week 52 (ending December 30, which includes the Christmas holiday) versus 206,543 units in Week 51 (ending December 23).

Terminal dwell decreased by nearly three percent versus the prior week at 26.9 hours.
Versus the January 2017 average: down by 6.2%

As always, we thank you for your business and appreciate the opportunity to serve as your transportation service provider. We welcome your feedback and questions.