UPDATE: Major Wildfires Impacting Operations in Northern California - July 28, 2021
Rail operations through Northern California, between Stockton, Calif. and Klamath Falls, Oregon, remain suspended due to wildfires in the region. As we have reported, the Dixie Fire has forced mandatory evacuations and is an ongoing threat to multiple rail lines, several bridges and tunnels. The fire, which has now burned nearly 218,000 acres, has moved closer to our main line between Almanor and Keddie, California during the past few days. BNSF has already experienced some significant damage to our rail infrastructure in the area.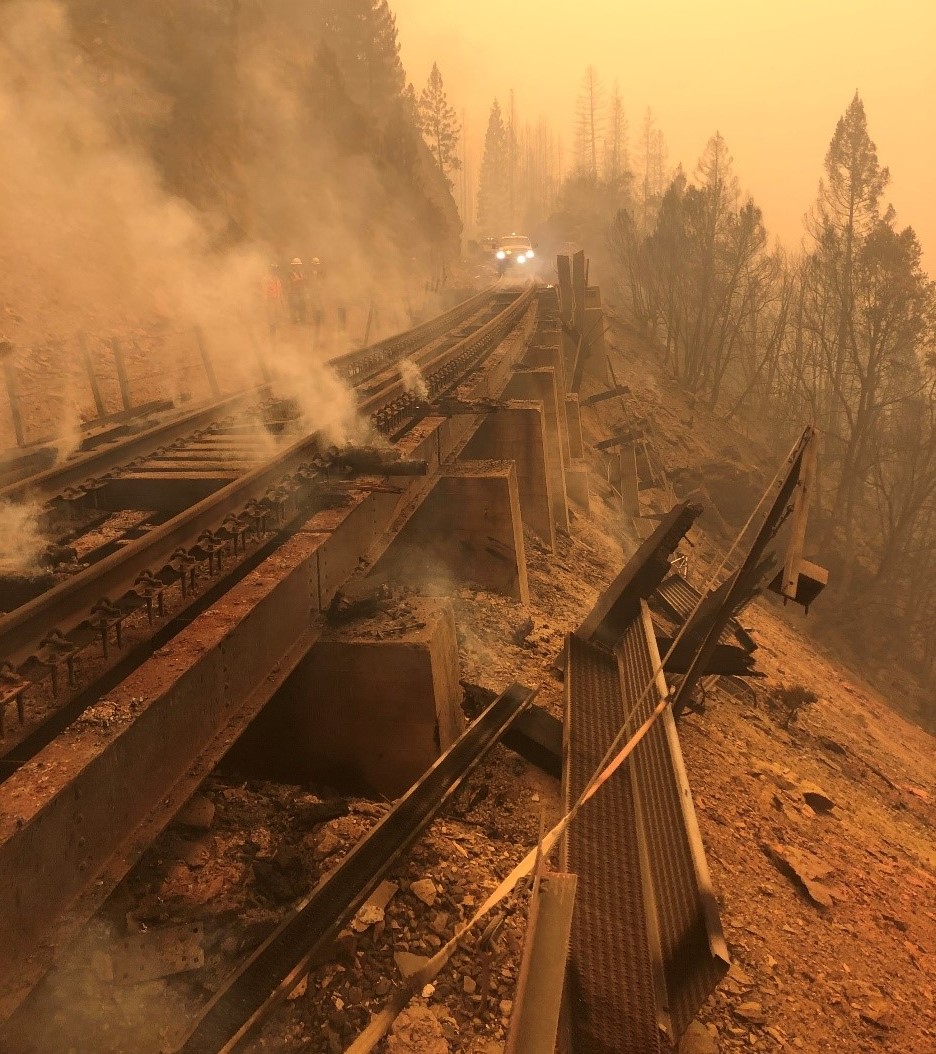 Damaged bridge near Moccasin, Calif. – July 25, 2021
The Dixie Fire is only 23% contained and the forecasted weather conditions are currently unfavorable, which will likely drive increased fire activity into the weekend. BNSF has two fire trains deployed to the area, and they have been active in applying water and other retardants to prevent further damage to structures. Our teams are working closely with CalFire crews in these suppression efforts, with safety always the highest priority.
There is no current estimate available regarding service restoration in the area. Customers with shipments designated to move between the Pacific Northwest to/from Northern California should expect ongoing delays.
Operations teams have implemented procedures to re-route affected Pacific Northwest-California train flows. Some trains are now moving through the central Rockies, and even on some longer routes further east, to reach their destinations. Customers tracing their freight may notice nonstandard routings, locations and interchanges. In addition to resource challenges due to the additional traffic on these alternate routes, this re-routing is resulting in longer overall transit times by several days compared to normal conditions.
If you have questions regarding a shipment(s), please utilize the Message Us feature on the BNSF Customer Portal (must be registered/logged in to access) or contact BNSF Customer Support at 1-888-428-2673.

We will continue to provide customers with further updates.