UPDATE: Service Fully Restored on Southern Transcon in Iowa; Winter Weather Challenges in Montana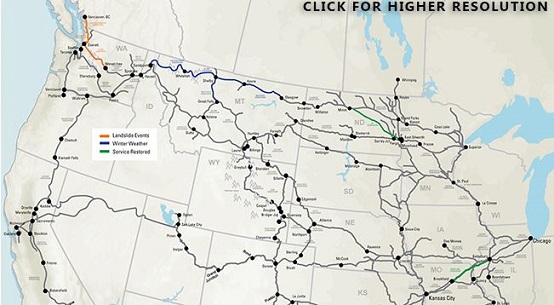 Along our primary Northern Transcon route connecting Seattle and Chicago, winter weather challenges remain between Glasgow, Montana and Sandpoint, Idaho. Winter storm warnings are in effect across much of Montana as significant snow is expected tonight and tomorrow, particularly along the mountain passes through Glacier National Park east of Whitefish, Montana. Customers should expect continued delays for shipments moving through this region.

In the Pacific Northwest, no additional landslide events were reported overnight as BNSF crews continue to address susceptible locations along our Bellingham and Scenic Subdivisions in the Seattle area.

If you have any questions regarding your shipment(s), please contact BNSF Customer Support at 1-888-428-2673 (select option 4, then option 3).

We will continue to provide you with further updates on any significant service interruptions.