UPDATE: Tropical Storm Harvey Impacting BNSF Operations in Southeastern Texas
Widespread flooding in the Houston area and other parts of southeastern Texas continues to cause major disruptions to rail service and BNSF operations in the region. Another eight to 12 inches of rain fell during the past 24 hours and several area reservoirs are at maximum water levels.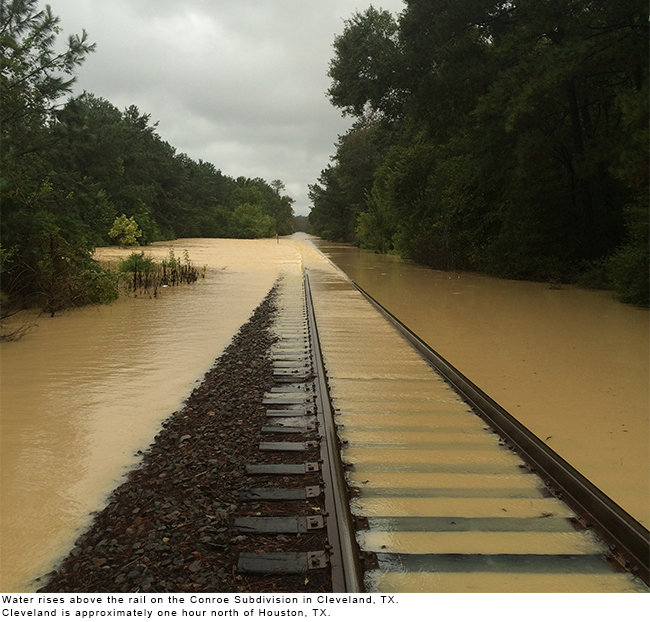 Several BNSF subdivisions remain out of service due to multiple washouts and high water reported. All traffic destined to/originating from Houston, as well as traffic scheduled to route through Houston, remains suspended. Other area rail lines, including those with BNSF trackage rights, have also been forced out of service.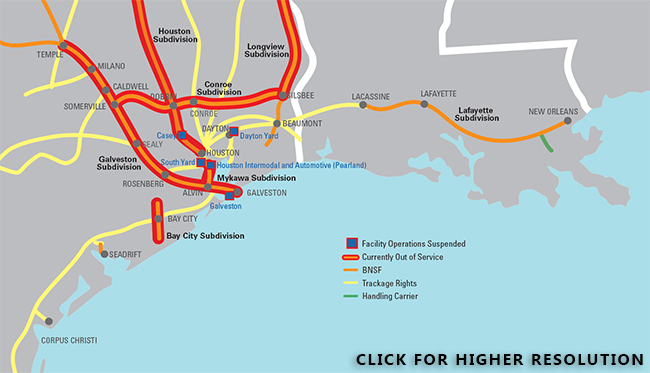 All operations at BNSF Houston-area railyards and facilities, including our Pearland Intermodal and Automotive facilities, are also suspended as road closures continue to limit access to these locations. There is currently no estimate on when these facilities may reopen.
Given the size and scope of this historic flooding, normal train flows in the area are not likely to resume for an extended period. Customers should expect continued delays on shipments scheduled to move through the area.
BNSF crews will be conducting inspections and beginning repair work today in some locations. Equipment and resources are positioned to support these restoration efforts as conditions improve. As always, safety is our top priority.
If you have questions about your shipment(s), please contact BNSF Customer Support at 1-888-428-2673 option 4, option 3.
We will continue to provide customers with further updates.