Working to Restore Service and Operations Impacted by Winter Weather
BNSF teams continue their efforts to normalize service across much of our Northern Corridor and the central Plains. As we have reported, extreme cold and frequent heavy snowfall throughout the past several weeks have presented significant service challenges and negatively impacted operational performance. We also experienced a derailment on our Hi Line Subdivision in western Montana Sunday night, which resulted in a significant number of trains delayed during a nearly 15-hour outage.

The extreme cold has impacted the ability to maintain normal train flows due to issues with generating proper air flow through trains. Across much of central and eastern Montana, temperatures during the past month have been frequently well below zero, with many locations breaking all-time records of around -30 degrees at the start of the week.

Temperatures have since moderated during the past few days. While still relatively frigid, we were able to lift train length restrictions on Wednesday. By lifting these restrictions, our operations teams will be able to run longer trains, help ease the demands on our locomotive fleet and reduce delays.

Additional snow accumulation in the region has been light this week, however, strong winds continue to create significant snow drifts, nearly six feet high in some areas, which has required ongoing snow clearing and removal from our main lines.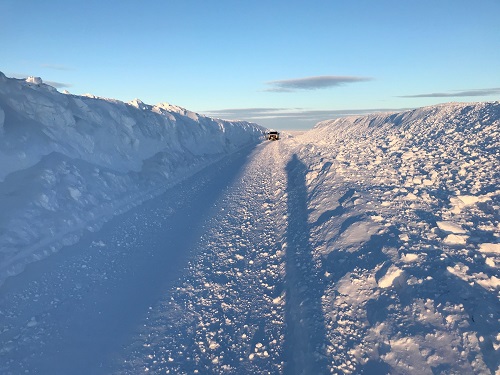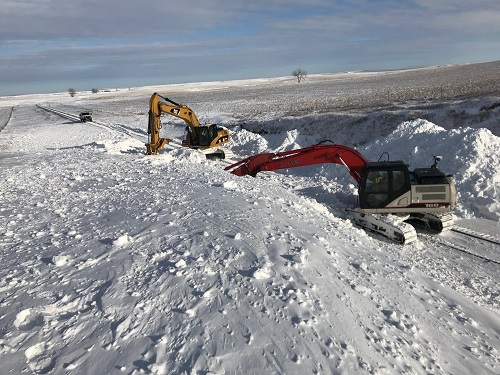 Snow clearing operations on the Mobridge Subdivision - north central South Dakota

Another major winter storm will move into the northern Plains and upper Midwest this weekend. Winter storm warnings are in effect across much of the Dakotas, Minnesota as well as western Wisconsin for Saturday into early Sunday. Nearly a foot of snow is possible is some locations, including the Twin Cities, with blizzard conditions expected throughout the region. In advance of this storm, BNSF operating teams are implementing Winter Action Plan procedures, which include pre-positioning resources and responders in critical locations.

Following this latest storm, current forecast models indicate no outbreak of Arctic cold next week as temperatures reach closer to normal levels for this time of year. With more favorable operating conditions, we expect to generate a gradual improvement in service performance, including greater throughput through yards and facilities in the region.

If you have any questions regarding your shipment(s), please contact BNSF Customer Support at 1-888-428-2673.

We appreciate your patience as we address this challenging operating environment. We will provide further updates on any major service interruptions.