BNSF, CSX join forces to ship 1,000 tons of relief supplies to Haiti hurricane survivors
BNSF, CSX join forces to ship 1,000 tons of relief supplies to Haiti hurricane survivors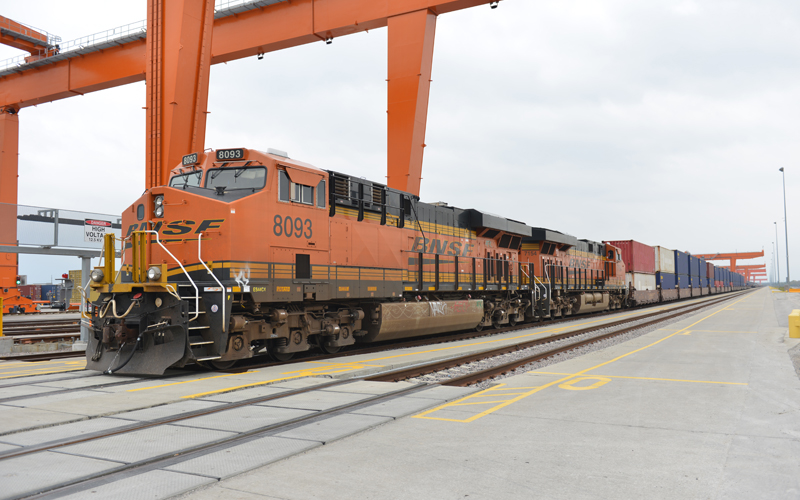 BNSF Railway worked with CSX and two humanitarian organizations to move a trainload of relief supplies for hurricane survivors in Haiti.
A 1,500-foot relief train departed Saturday evening, Oct. 15, from BNSF's intermodal facility at Logistics Park Kansas City (LPKC) in Edgerton, Kan., carrying 40-foot containers. The 45 containers bearing 1,000 tons of supplies arrived in Miami early on Tuesday, Oct. 18. Thirty-eight of the containers are loaded with 11.8 million meals, and the remaining seven contain tarpaulins, baby food, cleaning supplies, hand sanitizer and paper products.
"All around our network, our employees are giving back to their communities, and BNSF matches that enthusiasm," said Ron Johnson, BNSF regional director, hub and facility operations. "This has been an opportunity for BNSF to give back on a global level, in addition to the work we do in local communities along our network."

At BNSF, the effort involved more than 100 employees working together over four days to plan and execute the shipment.
Disaster relief organization Mission of Hope contacted BNSF, saying they had gathered a large sum in donations to help people in Haiti, but had no way of shipping supplies, or even getting them to a port. BNSF agreed to help and to pay the cost of the shipment, and CSX agreed to help as well. Time was of the essence so the containers could reach Miami in time for the next available ship to Haiti.

Cargo containers, trucks and drivers had to be lined up, and the containers had to be driven to the Convoy of Hope distribution center in Springfield, Mo. to be loaded with supplies. Convoy of Hope had an extra-large crew on hand, working through the night for two nights in a row to load the containers. BNSF worked to line up the right type of railcar and build the train while the containers were being trucked to LPKC from Springfield. The train was loaded and departed the facility a day ahead of schedule.

From LPKC, the train traveled to Birmingham, Ala. There it was handed off to CSX, which moved the train to Jacksonville, Fla. In Jacksonville, CSX handed the train off to short line Florida East Coast Railway for the final leg of its trip to the Port of Everglades in Miami. The supplies will be loaded aboard a ship bound for Haiti, where they will be distributed among hurricane survivors by Mission of Hope.