BNSF highlights progress in 2014 sustainability report
FORT WORTH, TEXAS — BNSF Railway Company (BNSF) today released its 2014 Corporate Responsibility and Sustainability Report, highlighting its environmental, economic and social performance. The report provides updates on the progress BNSF is making to reduce carbon emissions, protect the environment and participate in the communities where it operates.
"We believe it is good business and good citizenship to minimize our impact on the planet and to contribute to the long-term sustainability of the communities we serve," said BNSF Vice President of Environmental, John Lovenburg. "Rail is, by far, the most sustainable means of long distance surface transportation, and we are proud of the role we play in safely and efficiently moving millions of tons of goods across our country every day."
2014 Corporate Responsibility and Sustainability Report highlights include:
• Reducing the total carbon emissions of BNSF customers by 32 million metric tons when compared to alternative surface modes. This is equivalent to removing the resultant emissions of 6.5 million automobiles in one year.
• Adding 600 new, more energy-efficient locomotives to its fleet, which is the newest and cleanest-burning locomotive fleet in the rail industry. Nearly 40 percent of BNSF's fleet has been replaced in the last 10 years, resulting in a 10 percent improvement in fuel efficiency and a nearly 14 percent reduction in carbon dioxide emissions from its trains in the last decade.
• Achieving another record year for employee safety, including an all-time low for injury frequency, down eight percent from 2013.
• Delivering safety training on how to respond to incidents involving a range of hazardous commodities to more than 8,500 local emergency responders across more than 150 communities compared to 3,900 in 2013.
• Deploying $5.5 billion in capital investments for expansion and maintenance of BNSF's rail network and infrastructure compared to $4 billion in 2013.
• Donating more than $10 million to communities along BNSF's network through scholarships, sponsorships and funding to support community groups, including a $1 million annual contribution for three years to the USO to support hiring initiatives for active-duty men and women transitioning out of the military. Other major donations in 2014 included $1 million to Montana State University-Northern to build and equip a new diesel technology center; $550,000 to the National Fish and Wildlife Foundation to continue to help with the development of wildlife management plans to protect and restore bison and other wildlife in South Dakota and Montana; and $100,000 to the Great American Cleanup through Keep America Beautiful.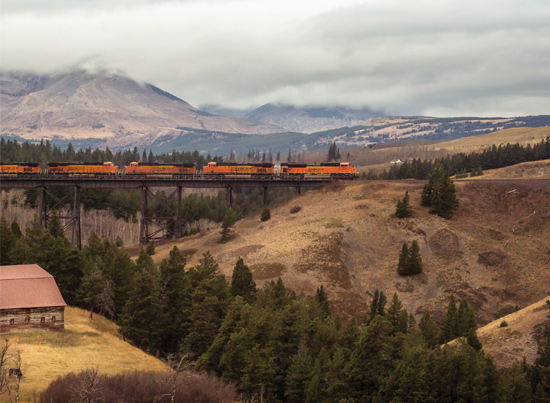 About BNSF
BNSF Railway is one of North America's leading freight transportation companies operating on 32,500 route miles of track in 28 states, and also operates in three Canadian provinces. BNSF is one of the top transporters of consumer goods, grain and agricultural products, low-sulfur coal, and industrial goods such as petroleum, chemicals, housing materials, food and beverages. BNSF's shipments help feed, clothe, supply, and power American homes and businesses every day. BNSF and its employees have developed one of the most technologically advanced, and efficient railroads in the industry. We work continuously to improve the value of the safety, service, energy, and environmental benefits we provide to our customers and the communities we serve. You can learn more about BNSF at www.BNSF.com.