Honda recognizes BNSF for excellence in transportation
FORT WORTH, Texas, September 26, 2018 – BNSF Railway Company (BNSF) was recently honored by Honda for excellence in transportation. American Honda Motor Co., Inc. President and CEO Toshiaki Mikoshiba presented the company's annual Premier Partner Awards to 15 suppliers that demonstrate excellence in quality, value and customer service. BNSF was recognized for efficient and reliable railway transport of finished vehicles.
"The Premier Partner Award winners exemplify Honda's philosophy of meeting and exceeding customer expectations," said Charles Harmon, senior manager, Administration Division, American Honda. "They provide Honda with exceptional service each and every day, and we thank them for their continued commitment to our business."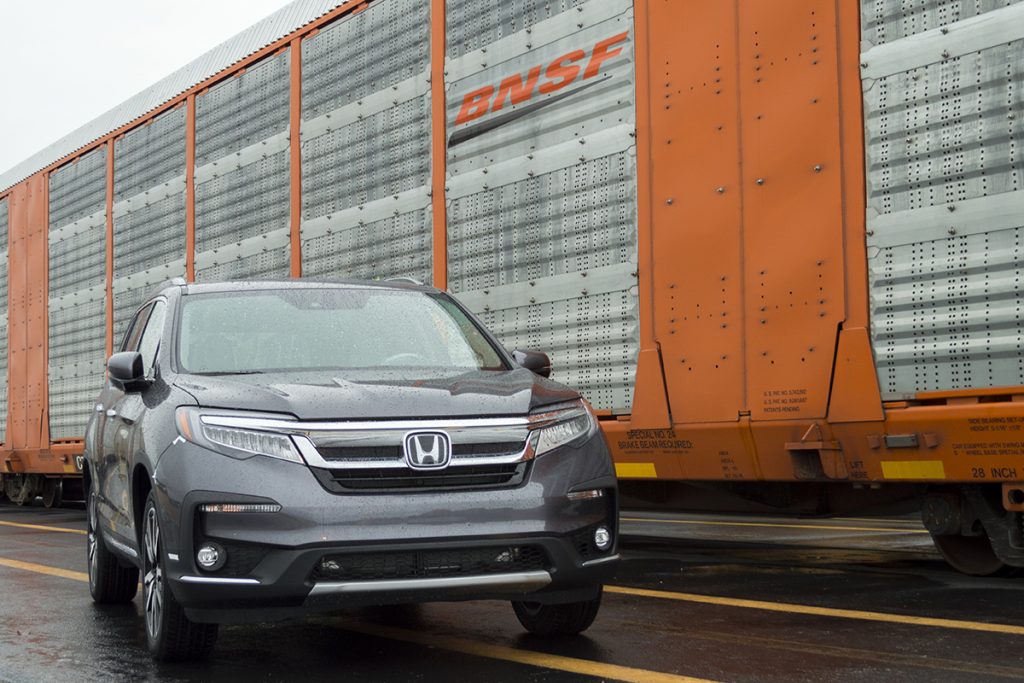 The Premier Partner Awards were established in 1998 to recognize suppliers who embrace Honda's philosophy of exceeding customer expectations. The award winners represent excellence in a variety of industries including automobile batteries, railway transportation, information technology services, marketing services and much more.
"BNSF is honored to be recognized by American Honda for the eighth time since the award's inception," said Dave Fleenor, assistant vice president, Automotive Marketing. "We are committed to providing our customers with best-in-class rail transportation service year in and year out."
Earlier this year, Honda celebrated its 25 millionth automobile built in the U.S. at its Ohio-based plant. Twelve different Honda and Acura models are built at five Honda auto plants located in the U.S.
About Honda in North America
Honda established operations in America in 1959 and today employs more than 40,000 associates in the development, manufacturing, and sales of Honda and Acura automobiles, Honda power equipment Honda powersports products, the HondaJet advanced light jet and GE Honda HF120 turbofan engines. Based on its longstanding commitment to "build products close to the customer," Honda operates 19 major manufacturing facilities in North America, working with more than 650 suppliers in the region to produce a diverse range of products for customers locally and globally. In 2017 more than 90 percent of the Honda and Acura automobiles sold in the U.S. were produced in North America, using domestic and globally sourced parts. Honda also operates 14 major research and development centers in the U.S. with the capacity to fully design, develop and engineer many of the products Honda produces in North America.
About BNSF
BNSF Railway is one of North America's leading freight transportation companies. BNSF operates approximately 32,500 route miles of track in 28 states and also operates in three Canadian provinces. BNSF is one of the top transporters of consumer goods, grain and agricultural products, low-sulfur coal, and industrial goods such as petroleum, chemicals, housing materials, food and beverages. BNSF's shipments help feed, clothe, supply, and power American homes and businesses every day. BNSF and its employees have developed one of the most technologically advanced, and efficient railroads in the industry. We work continuously to improve the value of the safety, service, energy, and environmental benefits we provide to our customers and the communities we serve. You can learn more about BNSF at www.BNSF.com.