BNSF Honors Nine Safety Coordinators in its North Region as Safety Employees of the Year
FORT WORTH, TEXAS – BNSF Railway Company (BNSF) has named nine safety coordinators in its North Region as Safety Employees of the Year. They were all recognized for their efforts at BNSF's annual Employees of the Year ceremony in Fort Worth, Texas. Brent Michel, conductor and the International Association of Sheet Metal, Air, Rail and Transportation - Transportation Division (SMART-TD) Montana Division safety coordinator, accepted the honor on behalf of his eight co-workers in the North Region.

The annual Employees of the Year program is designed to recognize employees who demonstrate BNSF's vision and values through their commitment, leadership and focus on working safely and efficiently to meet customer expectations. Their achievements positively impact BNSF customers, fellow employees, owners and the communities served by BNSF. Of the more than 40,000 team members across the company, 52 employees were recognized during the ceremony for their individual and team achievements in 2015. An additional 40 BNSF employees were acknowledged for their safety leadership last year – all of whom led teams that worked throughout 2015 without a reportable injury.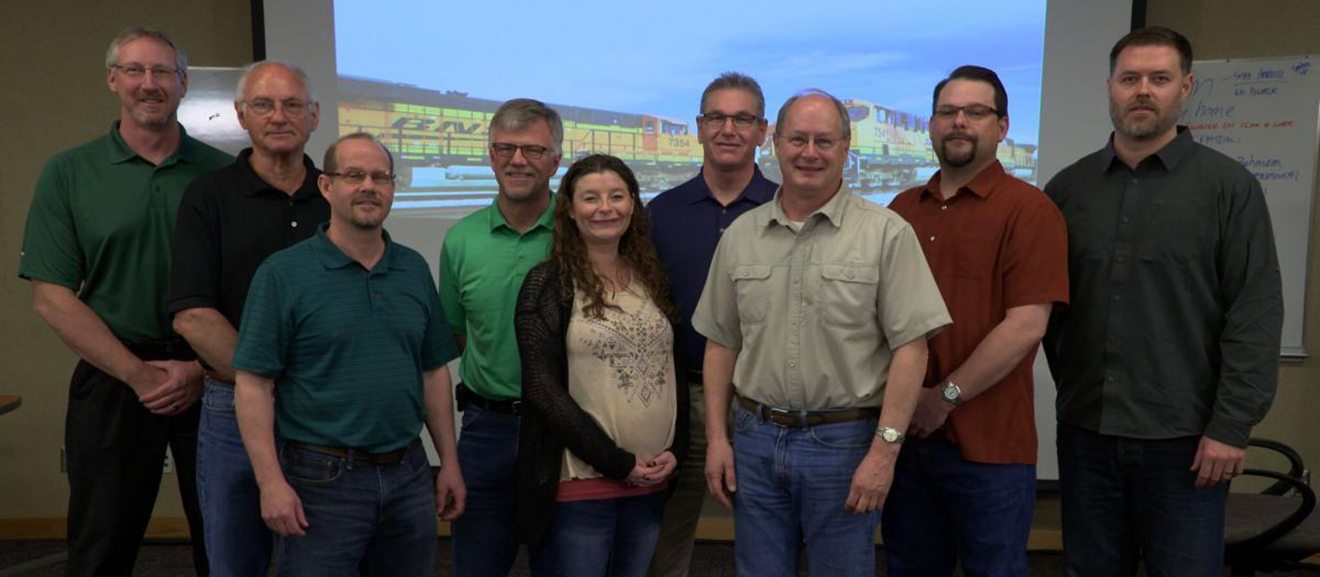 Safety honorees
"All of us can take pride in our achievements especially when it comes to being champions of employee-led safety."
"Our Employees of the Year program is a way to recognize our people for outstanding efforts and results. I'm grateful for the North Region's safety coordinators' hard work and dedication," said Carl Ice, BNSF president and chief executive officer. "They are a reflection of our entire team's commitment to always remaining focused on safety, serving our customers, and delivering on the integral role we play in moving our global economy forward."

Based in Great Falls, Mont., Michel joined BNSF more than 40 years ago and started his current role as a safety coordinator in 2011. His first major safety role was as an Operation Lifesaver trainer, followed by a conductor training coordinator and a CPR/first aid trainer.

"One of the joys of the job is that we work with our counterparts in other divisions. As safety coordinators we compare notes, ideas and materials. We are constantly communicating and having these relationships is imperative," Michel said. "All of us can take pride in our achievements especially when it comes to being champions of employee-led safety."

For well over a decade at BNSF, a team of safety coordinators, jointly chosen by their unions and management, have been focused on reducing risk and creating a safer workplace. These safety coordinators represent and support safety initiatives for their respective unions, divisions and regions. They have played a crucial role in building a safety culture of commitment by helping facilitate training, sharing ideas for making the workplace safer and engaging employee-led site safety teams.

BNSF recognized the following safety coordinators, who work on the North Region team with Michel: Terrance Carlson, conductor from Spokane, Wash., Tessa Collins, conductor from Dilworth, Minn., Greg Gordley, conductor from Bellingham, Wash., Kevin Howard, locomotive engineer from Vancouver, Wash., Don Mitchell, locomotive engineer from Seattle, Wash., Seth Nielsen, yardmaster from Vancouver, Wash., Steve Sukut, locomotive engineer from Glasgow, Mont., and Tim Van Overmeiren from Superior, Wis.

At the ceremony, the Mechanical, Engineering, Telecommunications and Intermodal Business Unit Operations teams each recognized an individual Safety Employee of the Year, while Transportation acknowledged the 36-member safety coordinator team. Three safety coordinator representatives attended the ceremony on behalf of the larger team. All of these honorees were recognized for their efforts to improve safety within the industry and their communities.

BNSF's continued safety improvements – assisted by the efforts of the Safety Employees of the Year – move it closer to achieving the company's vision of an injury- and incident-free workplace. For a complete list of honorees and a video of the Safety Employees of the Year, please visit bnsf.com/news-media/.
About BNSF
BNSF Railway is one of North America's leading freight transportation companies operating on 32,500 route miles of track in 28 states, and also operates in three Canadian provinces. BNSF is one of the top transporters of consumer goods, grain and agricultural products, low-sulfur coal, and industrial goods such as petroleum, chemicals, housing materials, food and beverages. BNSF's shipments help feed, clothe, supply, and power American homes and businesses every day. BNSF and its employees have developed one of the most technologically advanced, and efficient railroads in the industry. We work continuously to improve the value of the safety, service, energy, and environmental benefits we provide to our customers and the communities we serve. You can learn more about BNSF at www.BNSF.com.