Bracing for impact: How BNSF prepares for recovery when hurricanes approach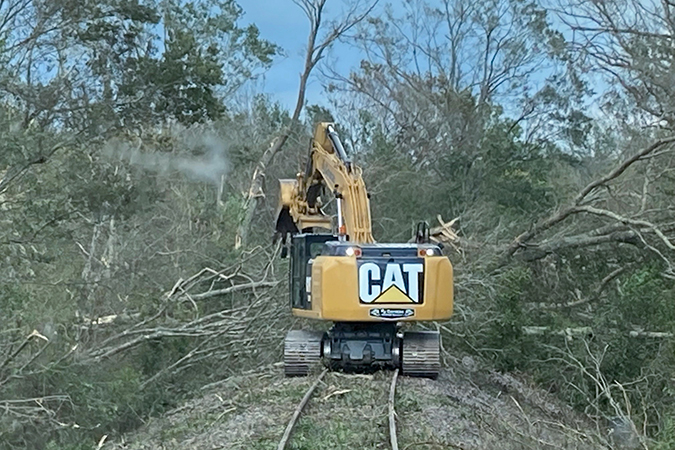 Hurricane-force winds can knock freight cars right off the track. Fast-rising water is strong enough to wash railroad ties out from underneath the rail, leaving the steel suspended like streamers. Impact from debris can destroy entire bridges. And when power lines are downed, critical signal and communications systems are disabled.
In short, a hurricane like Ida can be extremely disruptive to our railroad; unfortunately, they are unavoidable. That's why BNSF has preparedness plans for areas that can be hardest hit by these tropical cyclones. Long before Hurricane Ida made landfall as a Category 4 hurricane along the coast of southeast Louisiana on Sunday, Aug. 29, we were ready.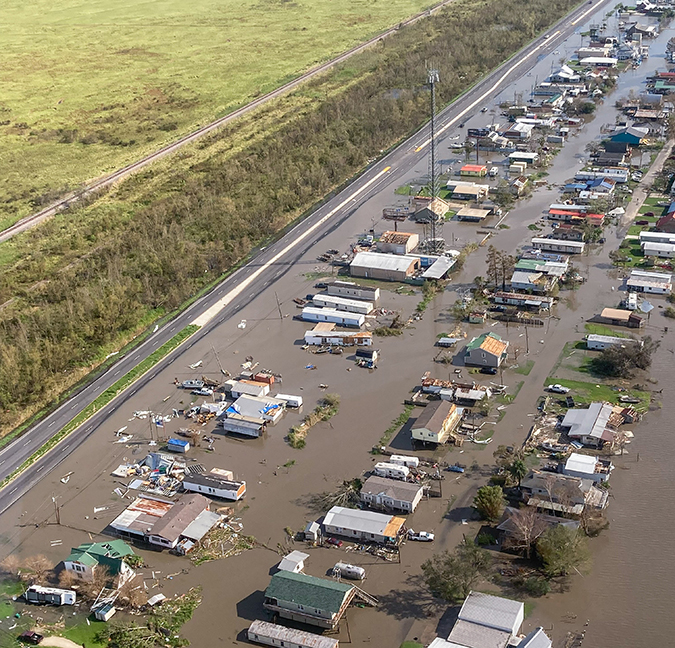 Planning and Preparation
Just as we plan each year for winter in the North, we plan for hurricane season in the South, starting with a meeting of our Red River Division operating teams to review the Hurricane Preparedness Plan so that everyone knows the expectations and can quickly react. We also work closely with the National Oceanic and Atmospheric Administration (NOAA) for forecasts and updates.
When conditions begin to pose a threat, a BNSF command center is established in Houston. From here, a team monitors forecasts, coordinates recovery and issues communication, especially with customers. Before the rain and wind hit we typically will have:
Held trains outside of the storm's path;
Determined evacuation routes;
Locked down structures and ensured employees are safely evacuated;
Cleared freight cars from at-risk customer locations as well as moved cars from low-lying yards/tracks to higher ground, secured handbrakes and tied down hundreds of rail cars;
Provided additional safety gear and medical resources, including tetanus immunizations;
Begun staging materials and equipment, including generators, fuel tanks and ballast, needed for restoration.
Then, hunkered down, we wait for the hurricane to pass and the waters to recede so assessment and recovery can begin.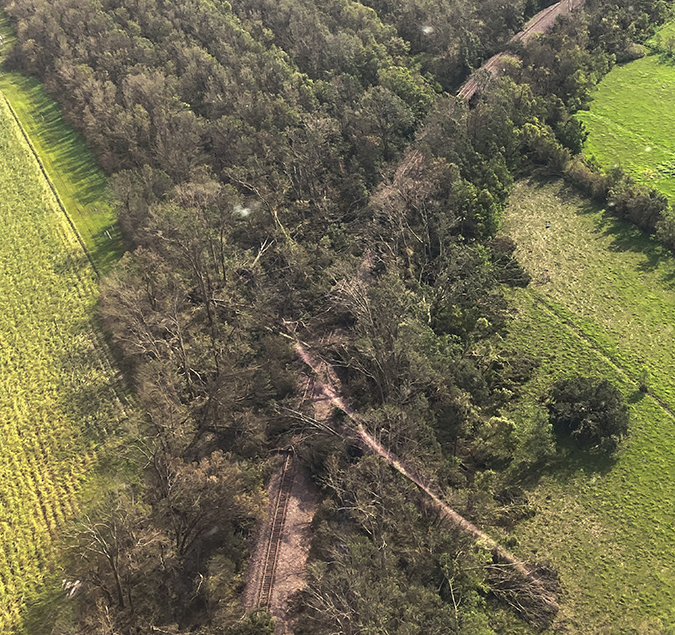 "The main focus of our preparedness plan is to keep our employees safe while we recover and to reduce service interruption for our customers," said the division's General Manager Janssen Thompson. "Our teams are much more prepared and alert today for what it takes to manage through a hurricane as we ready for the worst-possible scenario. In the case of Ida, we dodged major outages."
Lessons Learned
Some of our preparedness and recovery stem from past storms. Sixteen years ago to the day, when Hurricane Katrina made landfall in Louisiana, the massive flooding and destruction caused by the levee breach created significant challenges. Getting safe access to the site to assess damage is not as much an issue today, now that we have unmanned aircraft systems (UAS) to fly overhead and document the destruction.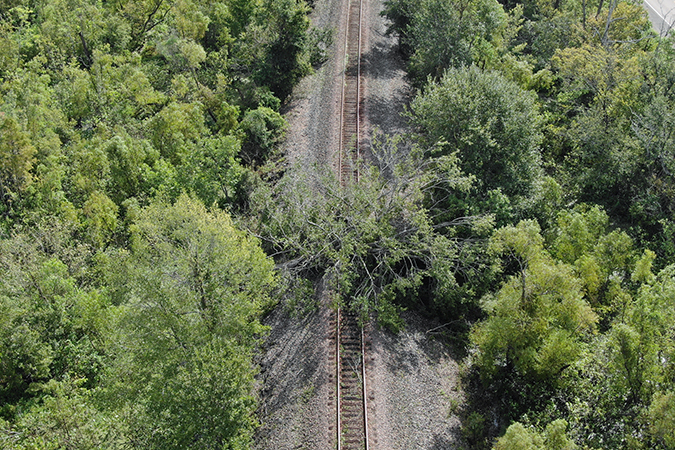 We also now use propane fuel cells for our trackside signal systems instead of generators that require refueling, which would be difficult with current fuel shortages in the state. And when cell and communication service is limited, as it has been with Ida, we have satellite phones.
"It's a huge coordination effort in advance of hurricanes. So many resources have to be set up and staged so they're where and when you need them," said General Director Line Maintenance Todd Kuhn of the Engineering team's work, crediting Division Engineer Phil Heusler and Roadmaster Gabe Zachary with round-the-clock coordinating.
Their planning also includes food, water and shelter for the crews, who might deal with sweltering conditions, standing water and sometimes even snakes.
Once the storm has passed and waters have receded, between UAS and inspection teams on the ground, we cover each mile of the affected railroad, in this case about 130 miles. Looking for track washouts, structure damage and signal and crossing outages, every section of railroad must be checked. Clean-up crews follow with excavators, chainsaws and grapple trucks.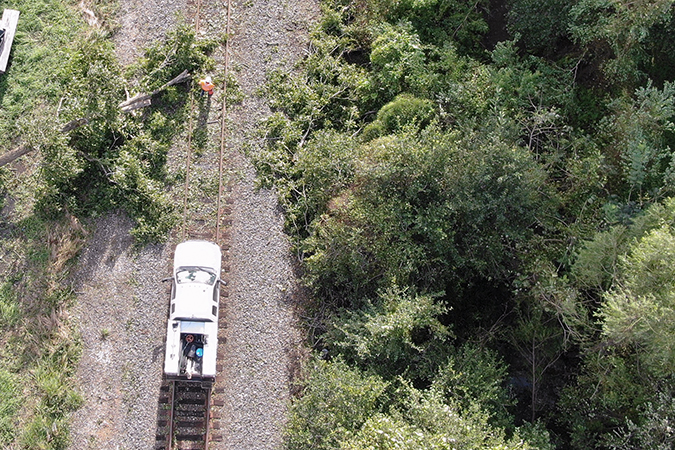 Ida's Impact
When Ida hit the railroad near Raceland, La., wind speeds were up to 125 mph. "These may have been the strongest winds we've experienced from any recent hurricanes," said Kuhn. "The devastation to the surrounding area was catastrophic."
The greatest impact from Ida to BNSF was fallen trees, power lines, and other debris on our track. Power outages in the hardest-hit areas challenged recovery.
BNSF runs trains on a jointly operated, single main track between Lafayette, La., and New Orleans, with much of the traffic from interchange with other railroads. In anticipation of Ida, about a dozen trains were rerouted to alternate locations, according to General Director Lance Brewer. Following the storm, some 2,300 freight cars were redirected to other routes.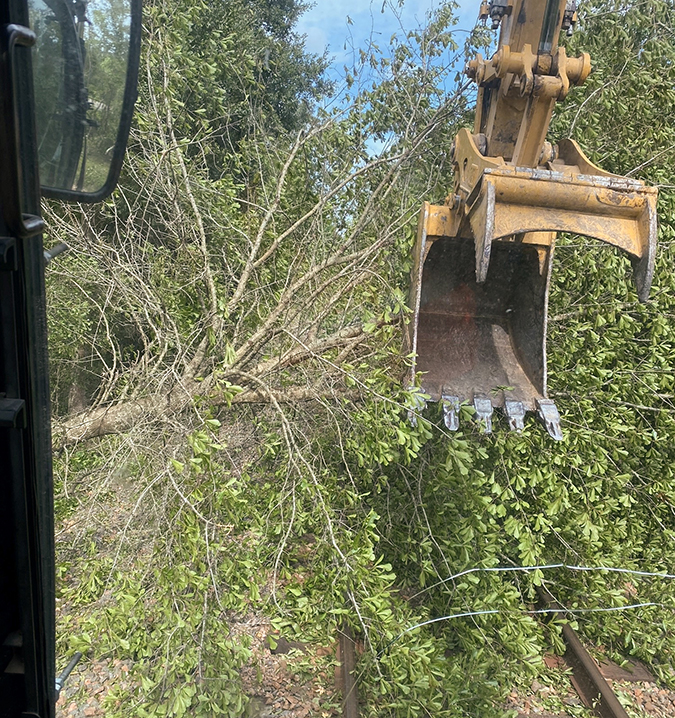 Fortunately, our inspections showed no damage to track, structures or bridges, and once the trees and other wreckage were cleared, we were able to fully restore service on the line by Sept. 2.
While our train service was spared major disruptions, we are concerned for those employees and other residents affected by Ida. BNSF is working with employees who have been most impacted and generators are being supplied to those requesting them. In the community, the BNSF Railway Foundation is donating $50,000 to the Red Cross for recovery efforts.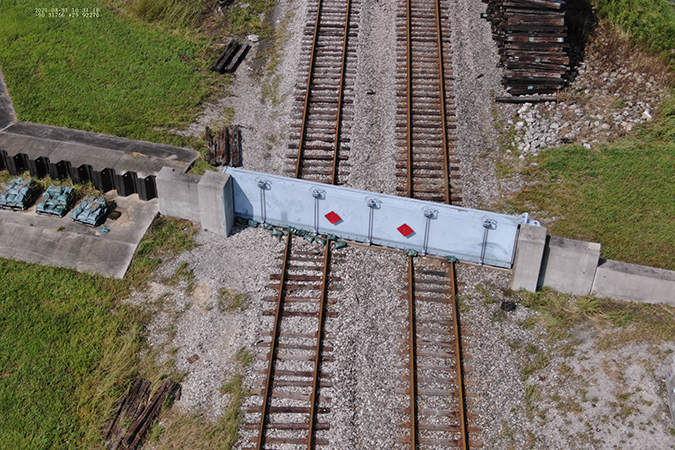 Though Ida has moved on, we know well not to become complacent, with hurricane season lasting through November.
"We had five hurricanes just last year, with varying degrees of outages, so in 14 years I've probably experienced well over a dozen," Brewer recalled. "My most memorable was Rita, when I manned the command center and lived four days in my office on generator power."
Whatever comes next, he and other members of Team BNSF stand ready for whatever punches those potential hurricanes might deliver.