Ag Products' RSS Services
All The News You Choose To View





Icons used to indicate RSS Feeds
What is RSS?
RSS (Really Simple Syndication) allows you to keep informed of "news" type information from thousands of different sources on the web. At BNSF that currently includes four price authority publications and Ag Products customer updates. RSS news readers allow you to track and view all of the web sites you want to follow in one place and, by automatically retrieving updates, you stay current with new content soon after it is published. Google RRS 2,600,000 hits for RSS on Google search.
What News Feeds or Channels Can I Get from BNSF's Ag Products?
Currently, five channels or feeds are provided.


BNSF 4022
or http://www.bnsf.com/customers/prices-and-tools/agricultural/bnsf4022/rss/bnsf_xml4022.xml


BNSF 4023
or http://www.bnsf.com/customers/prices-and-tools/agricultural/bnsf4023/rss/bnsf_trf4023.xml


BNSF 4024
or http://www.bnsf.com/customers/prices-and-tools/agricultural/bnsf4024/rss/bnsf_trf4024.xml


BNSF 4025
or http://www.bnsf.com/customers/prices-and-tools/agricultural/bnsf4025/rss/bnsf_trf4025.xml


BNSF 4026
or http://www.bnsf.com/customers/prices-and-tools/agricultural/bnsf4026/rss/bnsf_xml4026.xml
For any BNSF RSS questions contact Greg Johnson at 817-867-6723, or send an e-mailGreg%20Johnson;greg.johnson1;bnsf.com.
OPML File Support
For any feed readers or aggregators that will use an OPML (Outline Processor Markup Language) file containing multiple channels, use the link below:OPML for BNSF Ag Products channels This OPML file contains the URL address of all five Ag Products' RSS feed channels.
Who Else Offers RSS Feeds?
RSS is available from thousands of sources covering all types of web content such as world news, legislative/government/law, business, politics, education, health/medicine, entertainment, sports, job postings, science/technology and real estate.
Other sample sources for RSS news.
Agricultural related RSS feeds of interest


http://www.cbot.com/cbot/pub/rss/agricultural_news.xml Chicago Board of Trade


http://weather.gov/alerts/ Link to list of weather channels


http://rss.topix.net/rss/business/agriculture.xml. Topix coverage of Agricuture


http://rss.topix.net/rss/business/railroads.xml. Topix coverage of Railroads


http://www.nass.usda.gov/rss/news.xml General USDA RSS links


http://ars.usda.gov/news/rss/rss.htm Ag Research Service, USDA

What Do I Need to Get RSS Feeds on My Computer?
There are many different ways you can receive RSS feeds on your computer. RSS feeds work with a number of different kinds of Internet based programs on your computer. They include web browsers, email programs, and programs that are totally dedicated to RSS feed reading. There are also web based sites that will subscribe to your choice of RSS feeds for you. Below are a list of several of the common programs that you can use to subscribe to an RSS feed. Here are two web sites that list some of the more popular news reader products:
Below is an overview of four different types of RSS tools you can use with your computer.
Internet Browsers

Internet Explorer 8
Firefox
Netscape
Opera

E-mail Programs

Outlook 2007+
Thunderbird

RSS dedicated applications

Feeddemond
Owl
Wticker
Feed Explorer

Vista System 7 Desktop
Web based RSS services
1. Internet Browsers - With RSS Support
The newest release of Microsoft's Internet Explorer (11/2006) offers excellent RSS features along with a very easy to use interface. IE7 uses the term "web feeds" to refer to RSS feeds rendered in bookmarks/favorites while Firefox and Netscape use the term 'live bookmarks'. Adding feeds to IE7 is fast and easy.
For more details and illustrations on using IE7 click HERE.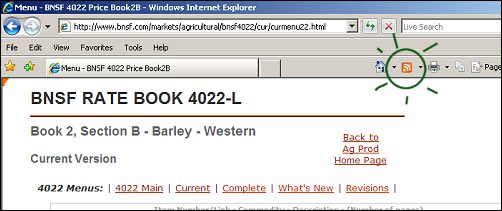 Internet Explorer 7 or 8's RSS icon will light up when you view a web page that offers RSS feeds for it's content changes.
Download a free copy of IE8 here http://www.microsoft.com/windows/ie/default.mspx



Firefox has offered RSS support since it's introduction in November of 2004. Firefox's way of organizing RSS feeds is with a special type of bookmark they called 'Live Bookmarks'. You create Live Bookmarks by visiting a site with a feed, clicking on the Live Bookmark icon in the Location Bar, and selecting the feed you wish to use. Once added to Firefox, viewing feeds is easy as accessing any regular bookmark. Live Bookmarks are stored in the same menu areas as regular bookmarks. In the Illustration below, a Live Bookmark for the 4022 is displayed on the personal toolbar.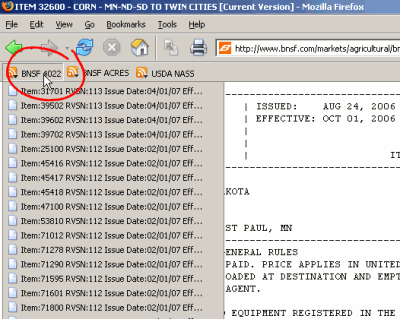 Download a free copy of Firefox http://www.mozilla.com/en-US/firefox/
2. Email Programs - With RSS Support
Mozilla Thunderbird (http://www.mozilla.com/en-US/thunderbird/) is a free email program that does a nice, but basic job of supporting RSS feeds. The interface is very similar to the stand alone packages. On the left side of the screen is a list of feeds or channels. On the right top is a list of items in that feed, and below on the right is a 'preview' window of the web page for the selected item. Between the item list and the preview window on the right is the metadata for that item: subject, from, data, and URL of web page. Thunderbird is easy to set up and flexible enough to let you create your own grouping for feeds or channels.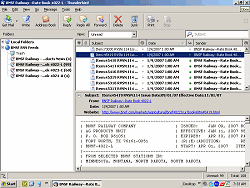 Click on the screen shot above for a larger view
While Microsoft has been near the last to add RSS to their application, they have made a big effort to catch up and do it well. For details on using Outlook for RSS feeds, follow this link to Microsoft's Introduction to RSS pages. Watch Video on CNET-TV (1.13minutes) or on www.viddler.com (5.65 minutes) on setting up Outlook 2007 to read RSS feeds.
3. Feed Readers - Totally Dedicated to Reading RSS Feeds

To get started with RSS you can also use something called a feed reader. Feed readers, sometimes called news readers or aggregator's, are a new type of web application that look and function very similar to an e-mail application such as Outlook. They gather, filter, classify, sort and list in menus, your choice web pages much as if they were incoming e-mail, complete with icons showing if the page has been read. They can be configured to work in various visual and functional ways. See screen shots below.

Feed Readers can be either a stand alone application running on your desktop computer or a plug-in for an existing application like Outlook email, or Firefox browser. You may also use your favorite search engine and look up "RSS reader aggregator" for a list of other feed reader products available. News readers are available both commercially and for free. Note: We do not support or recommend any specific news reader.

Click on the screen shot above for a larger
view of the FeedDemon news reader ($30)


RSS Owl is a great feed reader and it is free


Click on the screen shot above for a larger
view of the wTicker news reader (free)


Click on the screen shot above for a larger
view of the Feed Explorer news reader (free)
4. Feed Readers - Web Based
There are also web sites that will perform a news reader function for you such as MY Yahoo/RSS.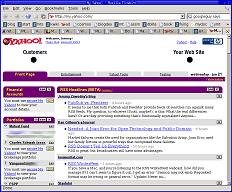 Click on the screen shot above for a larger
view of the MyYahoo news reader (web based)